The rise of the London Village
01-19-2014
WARDO STREET, MUNSTER VILLAGE, FULHAM, £1.725M
by Melissa York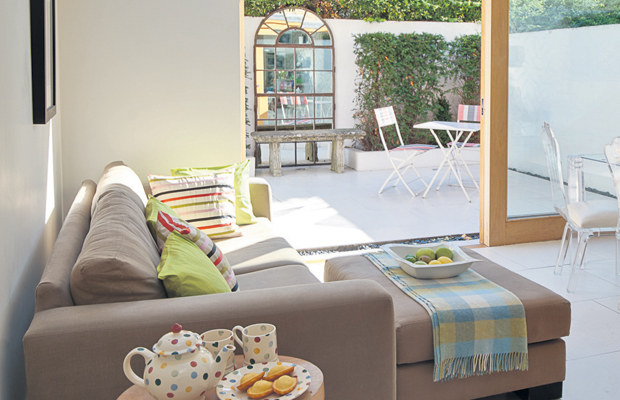 IT SEEMS these days everyone wants their slice of village life, even if they live and work in the heart of the city. The Big Smoke has always been made up of distinct neighbourhoods with their own character and lifestyle, but the idea of the London Village has really taken hold in the public imagination in recent years – and they're spreading like wildfire.
Well-established villages like Primrose Hill and Hampstead Village have provided a model of living that has been emulated in areas like Stoke Newington and Dulwich.
Typically these places have green spaces, independent shops, weekend farmers markets, thriving high streets and good schools that attract like-minded families. The rise of the London Village has also reaped rewards for homeowners and investors alike.
Research by estate agents Kinleigh, Folkard & Hayward in partnership with property website Zoopla.co.uk analysed 24 London Villages to complement a range of local area guides. It found that properties in areas defined as villages typically commanded 51 per cent premiums. The figures, published last November, also suggested that, while the average value of a London property is £456,802, those in sought-after London Villages cost closer to £691,046.
Zena Alkayat, author of the guidebook London Villages: Explore the City's Best Local Neighbourhoods, thinks their appeal extends far beyond financial benefits. "I don't think it's about money pouring in," she says. "I think it's actually about the community taking ownership of its area, working together to provide markets, events, shops and public spaces that best serve the people living there. When that happens, you get a really appealing, fun and interesting place.
"There's a real interest in localism and areas that are doing things differently tend to have the residents and their needs as their central focus."
Some are now well-known, such as Primrose Hill, Highgate, and Connaught Village. A two-bedroom flat on Connaught Street, described as "leafy" by agents Kay & Co, is being marketed for £1.5m. Moments from Hyde Park, the area is "famed for its designer boutiques, cafés, and restaurants". Similarly, over in prime Belgravia, the enclave of Ebury Village – loosely defined as the area either side of Elizabeth Street – is drawing in top creatives and high-end brands such as Jimmy Choo, Burberry and Tom Ford, which all have headquarters in nearby Victoria.
Residents enjoy a wide variety of specialist independent shops and Elizabeth Street also hosts annual summer and Christmas street parties. The guide price for a four bedroom town house on Graham Terrace in Ebury Village is being sold for £3.295m by Cluttons.
The long-held reputation of established villages, like Hampstead, also command higher premiums. According to the KFH/Zoopla, the leafy north London hotspot is the most expensive village to live, with an average property value of £1.525m, as opposed to relatively new Charlton Village where the average value is £292,679. West Hampstead Square, a new-build project from developer Ballymore, is hoping to trade off this reputation, centring the properties around a communal square and bringing in Marks & Spencer's Simply Food brand.
But newer villages are springing up with a "youthful, anything-is-possible energy about them, compared to the traditional and established feel of more iconic villages", according to Alkayat, and they're even drawing homeowners looking for more square feet for their money away from previously in-demand areas.
The Victorian houses of Munster Village, a triangle of streets in Fulham, is proving popular with first time buyers. The name was coined by an estate agent but the area seems to be living up to its "village" monicker, with thriving markets and independent shops on Munster Road, local eateries such as the Plum Café, and nearby Bishop's Park. Emma Stead, manager at Douglas & Gordon's Fulham office, says, "People get very passionate about their individual little areas and they cultivate it, they want to maintain what they like about the area."
One four bedroom house in Wardo Avenue, Munster Village, exemplifies the village spirit. The house is the first home of married couple Nicholas and Sarah Percy-Davis, who met over a hedge in the same street. Sarah asked whether she could borrow Nicholas' strimmer, Nicholas invited Sarah to a barbecue, and a Munster couple was born. They refurbished the house with the help of Sarah's property developer brother and now Douglas & Gordon is selling it for £1.725m.
Another village drawing people away from the city is Wimbledon Village. "Wimbledon is a true London village because the hill means it's elevated from everything else," says Savills' Clive Moon. "But we find the majority of buyers are coming from Chelsea and Wandsworth, moving when they want to start a family to get access to more space and better schools." Wimbledon Hill Park, a series of four, five and six bedroom town houses in a private cul-de-sac, is due to be finished this summer, starting at £3.5m each.
"Perhaps as the city has grown we've become more interested in finding the area that suits us," concludes Alkayat. "These villages make London a more manageable and personal place to live – and it's what gives the city its incredible diversity."