Buyers find average house price in Hackney, London, is half million
01-30-2014
Land Registry shows prices rose 17% over 12 months, achieving biggest year-on-year jump in all England and Wales

Hilary Osborne

The Guardian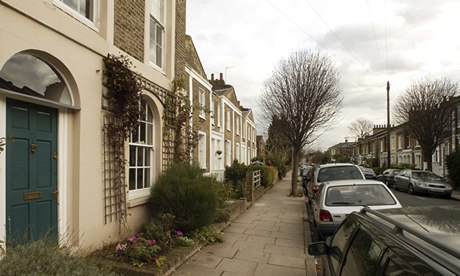 Houses in Hackney

Period terrace homes in Hackney, east London, an area 'put on the map' partly by the 2012 Olympics. Photograph: Graham Turner for the Guardian

The average cost of a home in the east London borough of Hackney broke through half a million pounds for the first time in December, as the area recorded the biggest year-on-year leap in prices in England and Wales last year.
Figures from the Land Registry showed prices leaped by more than 17% in the 2012 Olympics host borough as buyers priced out of more traditionally affluent parts of the capital discovered the area.
The £502,000 average price in Hackney compares with a nationwide average of £176,500, according to Nationwide, though that is far below prices in the capital's most expensive neighbourhood, Kensington & Chelsea, where the average home fetches £1.2m.
Nick Karamanlis, sales manager at the Hackney branch of estate agents Stirling Ackroyd, said the area was still feeling the benefits of the Games It .put east London on the map and there was a lot of money pumped into the area.
As well as bringing world-class sports facilities, the Games improved access by public transport, including new overground rail stations.
Karamanlis said he had seen interest from buyers moving out of west London and the City. "Two or three years ago Hackney was undervalued, if you looked at prices in neighbouring boroughs like Islington. People have started to realise that they can get a nice period house in London Fields for half the price they would pay in some areas."
Karamanlis said he had just sold a house in Albion Square to people moving from Notting Hill, west London, and, with "coffee shops and boutique shops springing up everywhere", other buyers were likely to follow suit.
The Land Registry figures, which are based on completed sales, show prices in the area increased by 2.6% in December alone.
Karamanlis said the new year had started similarly strongly. "In January an agent will always go in high to get the property because there is demand from new buyers. Not only are people going for the inflated prices, they are paying over them. People are fighting for properties … every sale we do goes to a sealed