House price rises coming to an area near you soon!
03-06-2014
The London property market is booming but the rest of the country is starting to benefit from house price rises.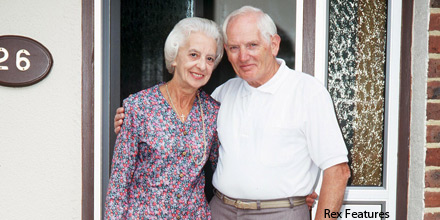 Homeowners outside London perplexed to hear about the UK's house price boom are finally starting to see some of the rises coming their way.
Research from Hometrack has shown that property prices have now risen across more than half the country, the highest coverage of growth for a decade.
A total of 51% postcodes reported higher prices last month, up significantly from 29% of postcodes in January and the number of postcodes registering a price decrease last month was just 0.4%, compared with 5.3% in January. This shows that while property prices are not increasing across the whole country they are at least remaining static.
This is good news for those outside the capital, many of whom have either seen little in the way of house prices rises or who continue to sit in negative equity while the average London home has increased to £409,000, according to Land Registry figures.
Hometrack said improving consumer confidence and low mortgage rates were driving increased demand for housing across a growing number of markets beyond London and the South East.
Richard Donnell, Hometrack director of research, said: 'The housing recovery continues to spread across the country, building on the momentum that started a year ago. The latest survey shows that house prices increased across more than 50% of the country in February. This is the greatest coverage of house price growth for almost a decade showing the extent to which market sentiment has improved in the last 12 months.'
Donnell said the imbalance between supply and demand in the market means that upward price pressure will increase over the coming months.
North/South divide
Despite price growth in more areas, property in London and the South East is still racing ahead. The average price increased 0.7% in February, according to the Hometrack data, up from 0.3% in January but property in the capital and the South East registered price growth of 1.1% and 0.9% respectively last month.
'All other regions registered higher prices over the month but the rate of growth is more muted with buyers remaining cautious and prices rising slowly off a low base,' said Donnell.
Martin Stewart, director of independent mortgage broker London Money, said that despite the swift rises in the capital he was not concerned about a bubble. 'For the time being, I'm not worried about the London market overheating,' he said. 'Demand is simply too strong while supply remains incredibly weak.'
He added that prime central London was 'now the reserve currency for the wealthy' but overseas buyers were looking outside zones one and two on the tube map, meaning other areas were benefiting.
While Stewart said 'competition for property is fiercer than I have ever seen' he has no reason to think that house price momentum won't continue throughout the year.
Cost of property
The average house price has now hit £177,846, according to the latest Nationwide house price index, after last month's fourteenth successive monthly increase. The 0.6% increase in February means the price of a typical home is now 9.4% higher than February last year.
Nationwide chief economist Robert Gardner said the increases were fuelled by demand outstripping supply but also a lack of new homes being built. 'Price growth is being supported by the fact that the supply of housing remains constrained, with housing completions still well below their pre-crisis levels, which was already insufficient to keep up with the pace of household formation,' he said.
In England around 109,500 new homes were built in 2013, 38% below the level recorded in 2007 and around half the number of homes needed. Record low interest rates, which have stayed at 0.5% for five years this week, plus increased credit availability due to government initiatives such as Funding for Lending and the Help to Buy scheme, mean more affordable mortgages for more people.
The latest Bank of England money and credit report showed the ever stronger growth in the mortgage market, with total volume and value of approvals rising consistently for the past three months. The amount loaned in January totalled £18.6 billion. In January 4% more mortgages were approved than December although, despite rising house prices, the amount being borrowed fell 3%.
Peter Williams, executive director of the Intermediary Mortgage Lenders Association, said: 'It suggests the size of mortgage loans remains stable in spite of rising house prices, with households and lenders exercising caution given that the only interest rate changes likely to arise will be upwards.'
Williams warned that 'we are still a long way from a full recovery and there is plenty of capacity to support a more expansive and sustainable mortgage market'.
With interest rates so low, mortgage rates have also fallen to historic lows. A two-year fixed rate mortgage at 60% loan-to-value (LTV) is being offered at a rate of just 1.48% by West Bromwich building society. This is in comparison with the best two-year fixed deal offered by HSBC five years ago which was 2.99%.
A two-year rate for a 90% LTV today can be taken out for as little as 3.45% at Furness building society, compared with 5.99% offered by Clydesdale Bank five years ago.
'The saving on a two-year mortgage today compared to 2009 is literally thousands of pounds for a first-time buyer,' said Sylvia Waycot of comparison site Moneyfacts.co.uk.
'However, wonderful though it is to be paying less for a mortgage, the current base rate is no the norm and rates will rise eventually. First-time buyers particularly need to be aware of over-stretching themselves financially.'