Rising house prices will derail Help to Buy, mortgage lenders predict
03-12-2014
Many lenders and brokers have said they expect early end to part of the scheme guaranteeing 95% home loans

Hilary Osborne The Guardian

House prices growing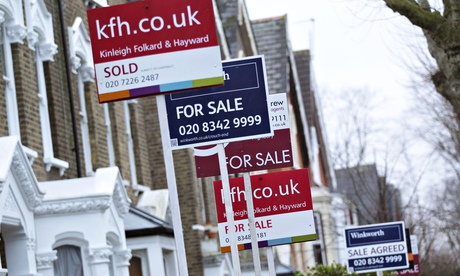 Houses in Finsbury Park, in north London: prices were up 9.4% year on year in February, Nationwide reported. Photograph: Yui Mok/PA

Large numbers of mortgage lenders and brokers are predicting part of the government's Help to Buy scheme will be withdrawn early because it is artificially inflating house prices, according to an industry survey.
Research by the Intermediary Mortgage Lenders Association (Imla), a group made up of banks and building societies that offer loans through brokers, found growing concerns that rising house prices could cause the chancellor to pull the plug on the part of the scheme that guarantees 95% home loans before the end of its planned three-year term.
Half of the brokers questioned and 46% of the lenders said they expected the scheme, which offers lenders a taxpayer-backed guarantee on loans for borrowers with small deposits, to finish early. In addition, three-quarters of lenders said they expected it to be closed early for remortgages.
In July, 60% of lenders said they thought the scheme could be derailed by rising prices. That figure which has now increased to 69%.
A key criticism of the mortgage scheme, which is available on properties priced up to £600,000, has been that it drives up demand for properties without increasing supply.

Figures from the Halifax showing a 2.4% rise in prices in February could put pressure on the chancellor to announce tweaks to Help to Buy in next week's budget.
Those questioned by Imla suggested Help to Buy had been a key factor in the return of 95% mortgages, a change that has helped to increase first-time buyer numbers and drive the housing market in recent months.
"These findings throw the spotlight on crucial policy decisions that must be thought through to safeguard the recovery in mortgage lending and house building," said Peter Williams, the executive director of Imla.
"Whether or not the scheme runs its full course is less important than making sure we have a self-sustaining market in place going forward.
"The evidence suggests that we have an entrenched mortgage market recovery which can survive its withdrawal."