Housing market: fears of bubble as demand far outstrips supply
04-01-2014
Hometrack finds housebuyers in London are paying more than 99% of asking prices against a backdrop of soaring demand

Katie Allen The Guardian
Housing market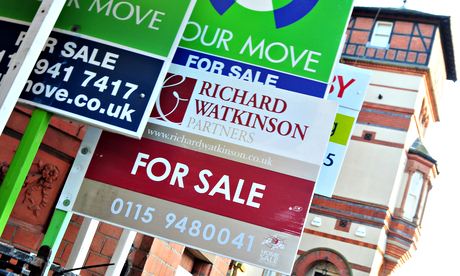 The length of time properties stayed on the market fell to less than eight weeks. Photograph Rebekah Downes/PA
Fears that Britain's housing market is headed for bubble territory were stoked on Monday by fresh evidence that demand is far outstripping supply.
As the market heats up, buyers desperate to secure a property are paying the highest proportion of asking prices seen for a decade, according to a report from property researchers Hometrack. In London, buyers are paying more than 99% of asking prices against a backdrop of soaring demand from foreign investors and local house hunters.
The figures come alongside a warning that the south of England faces a shortfall of at least 160,000 homes by 2018. An analysis of building projects by upmarket estate agent Savills finds that local planning authorities are "simply not planning enough new homes to meet the growing housing need."
The reports follow assurances from the Bank of England that it is poised to take steps to slow down Britain's housing market if the pickup in prices and mortgage demand signals a new property bubble.
Hometrack said house prices rose 0.6% in March, a slight slowdown from 0.7% growth in February, on lower growth in London and the south-east. But it said the fundamentals suggested more house price growth ahead as demand grew 6.6% in March – which it measures by new buyers registering with agents – and supply rose 1.9%, based on new listings.
Richard Donnell, director of research at Hometrack, stressed that not all areas were seeing surging demand with the north, north-west, Yorkshire and Humberside and east Midlands seeing price growth of less than 2%. He also rebuffed suggestions from some critics that the government's Help to Buy scheme was pushing up prices.
"The overall volumes of sales supported by the scheme remain relatively small. The real driver of higher house prices is record low mortgage rates and strong demand from first-time buyers and investors who have no property to sell which is compounding scarcity," he said.
In a further measure of the imbalance between supply and demand, the proportion of asking price paid in March was 96.2%, the highest since 2004. The amount of time on the market fell to less than eight weeks for the first time since October 2007.
Last week the Office for Budget Responsibility raised the prospect of the housing market becoming increasingly frothy in some areas. Robert Chote, head of the independent body, which produces forecasts for the government, told MPs on the Treasury committee : "With very rapid house price increases in some parts of the country you might see bubbly activity where people are willing to buy stuff off-plan or not intend to live in it."
But property firm Countrywide echoes Hometrack's caution over blaming Help to Buy for price rises. Its quarterly market review claims the scheme's equity loans are helping to boost housebuilding rather than prices.
It compares regional house price rises with data showing how buyers are using the Help to Buy scheme's equity loans, which allow first-time buyers and movers to borrow up to 20% of the purchase price of a new-build property provided they have a deposit of at least 5%.
More new homes have been bought using the loan scheme in areas which have seen the smallest increases in house prices over the past 12 months, the analysis by Countrywide suggests.
While a fifth of all homes built since April 2013 were sold through the scheme, in some more depressed housing market areas the figure had reached 50%, Countrywide says.
"Claims that the Help to Buy scheme is causing a housing bubble are far from the truth and the facts speak for themselves. As a proportion of transactions both parts of Help to Buy together support only 2% of transactions in London compared with 10% in the north-west, where support is most needed," said Countrywide's chief executive, Grenville Turner.
"The scheme has had a positive impact on house builder confidence with many now believing that they can sell what they build, which as we know means they will build more."
Savills warns that housebuilding in the south of England will remain way below what is needed to meet demand.
With the difference between house prices in London and the south-east now "higher than it has ever been", Savills sees demand for areas around London ramping up and overflowing into places as far afield as Cambridge, Brighton, Reading and Oxford.
Savills planning director, Jonathan Steele added: "We need to plan larger scale developments as a matter of urgency to meet local need and anticipated London overspill."
"The chancellor's recent commitment to a new 'garden city' in Ebbsfleet, with an initial 15,000 new homes, is welcome but it is a drop in the ocean – the equivalent of just four months' requirement for housing in London."