Looking to buy a house in London or the south-east? Join the queue
04-21-2014
'Superbubble' created by inflated demand has led estate agents to hold mass open-house viewings at weekends
Rupert Neate and Marése O'Sullivan

The Observer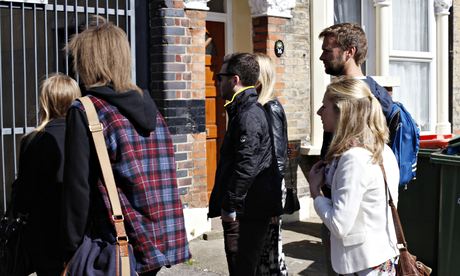 Buyers gather yesterday outside a flat in Forest Gate, east London.

Buyers gather outside a flat in Forest Gate, east London. Photograph: Katherine Rose for the Observer

Across London and the south-east this weekend, crowds are gathering around modest properties in a spirit of anxiety and anticipation. Amid talk of a superbubble, house hunters cannot afford to take a break from the increasingly frenetic race to find what passes for a bargain in the current market.
In a bid to sell more houses to more people in less time, estate agents are giving up on traditional methods – patter, printed details, and accompanied viewings – in favour of "open houses", when up to 150 people get 15 minutes each to shuffle around a property before deciding whether it might be their future home.
Estate agents say a huge increase in demand means they no longer have time for individual viewings, so they hold mass events at weekends. The new tactic, imported from the US and Australia, has proved a hit with buyers, sellers and agents, especially in the south-east, where the property market is in overdrive.
On Saturday, outside a two-bed flat on the top floor of a converted factory in east London, buyers looking for a foothold on the housing ladder were mingling with those seeking to buy-to-let. Edwina Hughes, a single 35-year-old from Carlow in Ireland, has spent eight years in London, and is currently renting with friends in Leyton. This is her sixth viewing. "I'd like to own my own property. I'm at the stage where I don't want to share any more," she says. "Prices are shooting up, and I'm slowly changing the areas I can think of because some are out of my price range. I don't like open houses. It's not the way I want to view property. I prefer it when the owner and tenant aren't there, and I can be on my own and have a proper look around, but at the moment that doesn't seem to be an option."
Siblings Ngaio and Ottilie Claris are also first-time buyers. "We've been looking for six or eight weeks now," says Ngaio, 26, a civil servant. "This is a bit offputting: you're surrounded by other would-be purchasers, and it drums up competition between people. You can't look at the place fully without feeling like someone next to you is also crowding in."
"It's like you need to make an offer now – you don't really have time to think," agrees Ottilie, 22, a digital designer.
Jacqui White, a sales director for Haart estate agents, says an average of 50 people turn up to open-house viewings, but more than 120 queued to view a starter home in East Ham recently. Half her sales now come through open houses, and she often has to call in four staff to marshal the crowds. "We might have to start having six people to lessen the pressure," she says. "We want as many people as possible to come, because homes often sell for more this way. They might go for 30% over the guide price."
Haart was holding some 300 open houses this weekend, and a fortnight ago Strutt & Parker held 650 on a single Saturday, resulting in offers worth more than £81m.
Buyers often queue outside for up to an hour before the doors open, and there are no chances for a second look. They are told to make a decision – and put in a bid – by Monday morning. Agents say the high-pressure experience leads to higher prices as buyers can see the other couples they might lose out to.
House prices have rocketed by 9.1% over the last year to an average £253,000, according to data released by the Office of National Statistics last week. London prices soared by 18% (5.3% of that in the past three months alone). Consultant PwC predicts that, by the end of this year, the average London house will be worth above £500,000. The new data prompted one London agency to brand the current market a "superbubble", while the Adam Smith Institute, a rightwing thinktank, says the London property market is now a "disaster" for young people.
Independent property expert Henry Pryor said there were thousands of open-house events across London and the south-east planned for this weekend, and that the early May bank holiday is also expected to be a bumper day. But the rest of the country has so far resisted the trend: "You'd probably fail to find one north of the Watford Gap," says Pryor.
White adds: "They are mostly first-time buyers desperate to get on [the housing ladder]. Prices are going up and there's not enough stock."
Owen Miles, a partner at Curchods estate agent in Shepperton, Middlesex, said his office has doubled the number of mass viewings it runs over the past year. "It's proving advantageous to our clients, with properties often going for higher than the guide price," he says. "We recently sold a three-bed semi priced at £400,000 for £465,000."
Peter Rollings, head of London agency Marsh & Parsons, spoke of unprecedented demand and record sales, with 48 buyers registered for each available property in south-west London. "A two-bedroom, ground-floor flat in Balham, initially advertised at £450,000, recently attracted 107 viewings and 53 offers. It eventually sold for £549,000," he says.
White says open houses can be stressful, but adds: "We do try to make it fun and lessen the pressure by giving out teddy bears to kids." An average open-house event, she says, generates bids from five would-be buyers. These are then vetted and presented to the vendors, who make their choice, taking into account various factors: "It could be the speed [in which they can complete the deal] or money. Nine times out of 10, it's money."
Desperately seeking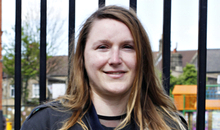 Making a new life
French writer Alexia Abadie has seen 30 properties so far, all without success. She still hopes to find somewhere affordable to call home.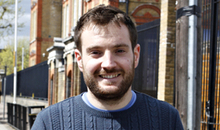 The grateful son
Harry Day-Brosnan, 26, is being bought a house "as an investment" by his parents. He has searched for six months and plans to move in with a friend.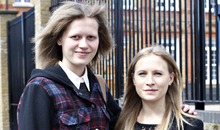 Flying the nest
Sisters Ottilie Claris, left, and Ngaio, right, have been looking together for eight weeks in east London. They say it's the only location they can afford.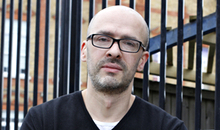 A home for him and her
Luke Watson, 40, from east Yorkshire wants to find somewhere to live in London with his Japanese girlfriend, 26-year-old Ayako Kanari.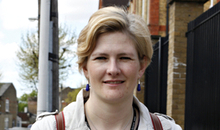 Time to move on
Irishwoman Edwina Hughes is embracing the idea of living alone but is having to be "broad-minded" about location.
Photographs by Katherine Rose