Halifax reports fall in UK house prices for second month running
05-09-2014
Quarterly and annual prices are still rising and demand for housing 'remains strong'

Hilary Osborne

Housing Market Begins To Slow In UK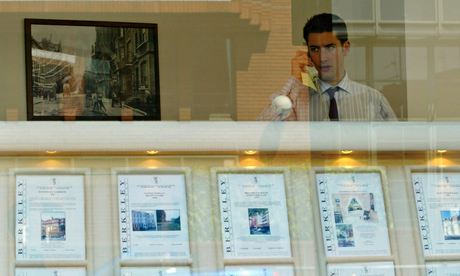 Halifax reports a monthly drop in house prices. Photograph: Scott Barbour/Getty Images

House prices fell for a second month running in April, with the average cost of a UK home dropping by 0.2% over the month, according to the latest figures from the country's largest mortgage lender.

However, despite also recording a 1.2% drop in March, Halifax's latest house price index showed prices were up by 8.5% on year-on-year, at an average of £177,648.

The bank said demand for housing "remains strong", and that while monthly figures could be volatile, quarterly figures gave a better impression of the underlying trend in the market.

On this measure, prices have increased by 2.3% compared with the preceding three months, which is in line with the quarterly trend over the past 11 months.

Halifax's figures, which are based on home loans agreed by the bank over the period, adjusted to create the value of a "typical" home, are not as strong as those from rival lender Nationwide building society which reported a 1.2% increase in prices in April and put annual rate of inflation in double-digits.

The figures are unlikely to quash fears that prices are reaching unsustainable levels in some parts of the country.

One of the main drivers of price rises has been a lack of homes for sale, with surveyors reporting on Thursday that sellers were still reluctant to come to the market.

Stephen Noakes, mortgages director at Halifax, said: "On an annual basis, housing demand still remains strong. Housing demand continues to be supported by an economic recovery that is gathering pace, rising consumer confidence, low interest rates and wage growth finally beginning to outgrow consumer prices.

"However, with supply of properties being slow to respond to market conditions, stronger demand in the past year has resulted in upward pressure on house prices."

Nicholas Ayre, managing director of buying agency Home Fusion, said the fall could be a sign that buyers were not prepared to pay what sellers are asking.

"If buyers are being sensible and refusing to pay over the odds because they can't afford it, then that is a good thing," he said.

"However, this may just be a blip rather than the beginning of a downwards trend in prices. Prices still rose on the quarter and on the year. And while the market may be adjusting, there are pockets of the London housing market where it is still crazy busy while in other parts of the country talk of a bubble is laughable."

Howard Archer, chief UK economist at IHS Global Insight, said while the housing market was showing "some signs of pausing for breath, we suspect that it has still got a lot of life in it".

A mortgage lending clampdown came into force on 26 April and some experts have said this could slow the market. Applicants face being asked more detailed questions about their spending habits under the mortgage market review (MMR) rules.

There have also been some signs of mortgage rates edging up in recent weeks, although on Wednesday Nationwide moved to cut rates on loans for first-time buyers by up to 0.2%.