HSBC expects lending controls to prevent house price bubble
05-09-2014
Bank director adds voice to fears that property bubble in and around London could wreck UK economy if market implodes

Sean Farrell

HSBC cash machine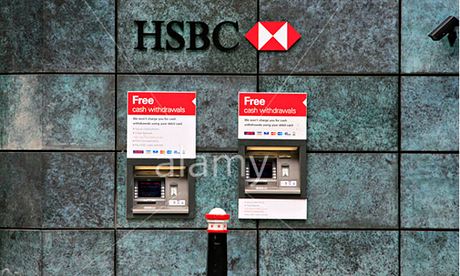 HSBC said its results were pulled down by $1.1bn of significant items such as gains on selling its Ping An insurance business and revaluing of derivative contracts last year.- Photograph: Alamy

HSBC said it was on alert for the Bank of England to intervene in the housing sector amid growing concern that a collapse in the booming London market could threaten Britain's economic recovery.
The bank's finance director, Iain Mackay, said: "What we are all are all waiting for or perhaps wondering about is, as London or the south-east continues to move ahead, will the financial policy committee [FPC] or the Bank of England reflect on how they wish to put some controls on lending into that sector?
"I don't think anybody has got a line of sight there. It's something the Bank [of England] is going to think through."
With house prices soaring in London and the south-east but barely rising in other parts of the country, Mackay said it would be difficult for the Bank of England to impose an across-the-board limit similar to one applied in HSBC's biggest market, Hong Kong.
"A measure such as that applied broadly in the UK perhaps would not be the best way of managing it but, again, that is a challenge for the governor of the Bank of England," he said.
Fears have increased that a property bubble is inflating in and around London that could wreck the economy if the market implodes.
The Organisation for Economic Co-operation and Development said on Tuesday that the housing market, buoyed by record low interest rates and government-backed subsidies for home buyers, threatened to overheat without further action by policymakers.
The OECD said interest rate hikes should be considered alongside other measures, such as tighter lending rules for buyers.
Critics of George Osborne have accused him of stoking a pre-election property boom by underwriting mortgages for first-time buyers with his Help to Buy scheme. The chancellor is said to believe that tighter checks on borrowers, introduced last month, will help to cool the property frenzy.
The Bank of England has also issued its strongest warning yet that it was monitoring the potential danger of a runaway property market. The FPC has powers to rein in the market such as imposing greater capital costs on banks for mortgages.
HSBC has increased its share of the UK mortgage market since the financial crisis. But Stuart Gulliver, the chief executive of HSBC, stressed that the bank's loans were low risk and that the average loan to value of its mortgages was 47.3%.
Gulliver said: "It's worth bearing in mind that the loan to value in our [UK mortgage] book is incredibly conservative."
HSBC knows from experience how a housing bubble can damage banks. It wrote off billions of dollars during the crisis on subprime loans made by its US business.
Gulliver and Mackay made their comments as HSBC announced a fall in profit for the first three months of the year and warned that business would remain difficult in the second quarter.
Pre-tax profit, excluding one-off items, fell 13% to $6.62bn (£3.9bn) in the first quarter. Revenue fell 8% to $15.7bn.
In retail banking and wealth management, revenue fell by $300m after the bank scrapped product commissions for selling credit cards, mortgages and investments.
Gulliver said short-term reductions in revenue would be made up by reduced costs to fix scandals such as the mis-selling of payment protection insurance, which has cost the industry about £20bn.
"The risk of customer redress and of fines in later periods should have diminished materially as a result of these changes. We have seen that profits recorded in year X are given back in multitude in year X plus five," he said.
Gulliver added that global banking and markets revenue shrank by $200m because of tough trading conditions also reported by Barclays on Monday. The business was likely to stay quiet in the second quarter because clients do most of their hedging at the start of the year, he said.
HSBC shares were down 0.9% to 598.7p in lunchtime trading.