House price boom predicted to continue for at least two years
05-11-2014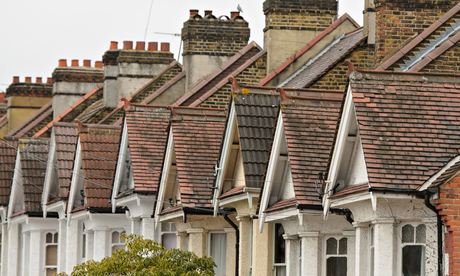 New research suggests interest rate rises will not halt the spike in house prices until 2017

Angela Monaghan and Hilary Osborne

The Guardian

House prices rise in double figures

NIESR research suggests the house price boom may not ease until 2017. Photograph: Dominic Lipinski/PA

The boom in house prices will continue for at least a further two years before interest rate rises bring the process to a halt in 2017, a leading thinktank has predicted.
Prices will rise by 7.8% this year and 4.2% next year, but drop to a 0.9% increase in 2016, according to the National Institute of Economic and Social Research (NIESR).
That will be followed by virtually no increase in house prices in either 2017 or 2018, NIESR predicted, as households and lenders respond to higher interest rates. UK rates have been on hold at 0.5% since March 2009, and are expected to start rising again in the first half of 2015.
The prediction comes as Halifax reported that house prices fell for a second successive month in April, with the average cost of a UK home dropping by 0.2% over the month. But the mortgage lender's latest house price index showed prices were up by 8.5% compared with the same period last year, at an average of £177,648.
NIESR warned that even a small rise in borrowing costs will have an impact on households, although the thinktank expects rates to remain below pre-crisis levels for at least another decade.
Jack Meaning, research fellow at NIESR, said: "It is not necessarily going to take as much of a rate rise as it would have in a period of more normal monetary policy, because we are at a turning point. The signal rate rises will send is probably going to have quite a big psychological impact."
In September 2008, the month when US investment bank Lehman Brothers collapsed, UK interest rates were running at 5%. According to NIESR's forecasts, rates will still be below 2% by the end of 2017. By the end of 2024, they are forecast to be 4.25%.
The thinktank said that, as well higher rates, the ending in 2016 of the mortgage guarantee element of the government's controversial Help to Buy scheme – which applies to house purchases worth up to £600,000 – is also likely to weigh on house prices.
Meaning said that while the evidence suggested Help to Buy was not in itself fuelling a boom in house prices, the scheme was sending a "big signal" that the government believes prices are on the up, because they are willing to guarantee mortgages.
He added it was a "complete unknown" whether new tools at the disposal of the Bank of England's Financial Policy Committee (FPC) might have a significant impact on taming the housing market. The FPC could order an increase in loan-to-value ratios or force banks to hold more capital against mortgages if it becomes concerned that prices are out of control.
Jonathan Portes, NIESR's director, said the FPC could use the tools to target London, where price rises are most rapid.
He said: "It's very difficult to spot bubbles before they burst. There is almost certainly some level of overheating in London, but that doesn't mean there's a bubble more widely."The FPC will be able to decide whether or not to use its new tools at its meeting in June. MPs on the House of Commons Treasury Select Committee (TSC) will warn the FPC in a report published today [FRIDAY] that they will be seeking an early explanation for any decisions taken at the meeting.
NIESR said Britain's recovery was becoming more entrenched and upgraded its growth forecasts forecasts for 2014 and 2015 to 2.9% and 2.4% respectively. It expects UK gross domestic product to return to pre-crisis levels this month.