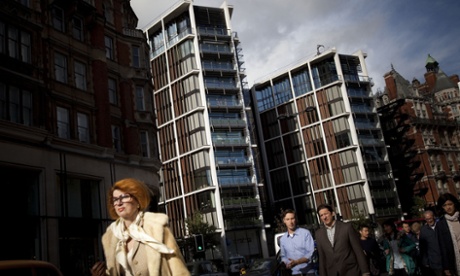 What is it about London that wealthy Russians can't get enough of? Thanks in no small part to the crisis in Ukraine, their takeover of the London property market is growing apace.

According to the Financial Times (£), well-to-do Russians – and Ukrainians too – "are trying to shift more cash into London property ... amid indications that eastern European oligarchs are using the capital's housing market to conceal their assets from international sanctions". (And this despite a recent "tax crackdown" by George Osborne, apparently.)
Property experts JLL predict that "Russian capital flight could quadruple year-on-year" – and it's not as if the starting point was low: estate agency Knight Frank puts Russians top of the list of foreign buyers of £1m-plus London homes in 2013 (spending somewhere north of £500m). But why London? The only thing for it was to head to Moscow and see for myself – in between a few games of chess.
I wasn't just obsessing about oligarchs. There are reckoned to be almost a hundred Russian billionaires who made their fortune in the political and economic chaos that followed the collapse of the Soviet Union in the early 1990s, but 100 oligarchs can't buy London. There had to be more to it than that.
Naturally, Moscow was hosting an international property show while I was there, and I found myself in a workshop at which eager would-be sellers of UK property heard from experts steeped in the ways of wealthy Russian buyers. Kim Waddoup, who has lived in Moscow for more than 20 years and runs the property show, had a warning for his audience: "Nothing in Russia is quite as it seems."