On Carney Street in Boosbeck they don't really talk about house prices, says Ashleigh Naylor, a newly qualified nurse who lives halfway along the tiny terrace. "When you buy a house here, you buy it and then stay in it, for 30 or 40 years," she says.
It is probably just as well, because those who do need to sell up for any reason are still suffering from the downturn that started in 2007 and just seems to go on and on.
Estate agents in the North Yorkshire town say average prices are still around £30,000 off their peak, and when properties do come on the market sellers face a long wait for a buyer. No 4 Carney Street recently sold after 15 months on the market, and then only after the asking price was slashed to £29,950.
The average UK home, according to last month's Nationwide house price survey, is now worth more than 10% more than a year ago. Some of the august members of the Bank of England's interest rate-setting committee have warned about the dangers of what many are describing as a house price bubble. Earlier this month the deputy Bank governor, Sir John Cunliffe, said it would be dangerous to ignore the momentum in the market, adding: "This is a movie that has been seen more than once in the UK". The governor, Mark Carney, is more equivocal, but takes every opportunity to make it clear he is watching price rises carefully.
But that all seems a million miles away from this street in Cleveland.
Land Registry records show the highest price ever achieved on the street was in 2012, when the three-bedder at no 10 sold for £65,000. Prior to that, as the market approached its peak in 2006, no 8 went for £62,000, almost double the £34,000 it changed hands for three years earlier. It would likely fetch less today.
Across Redcar & Cleveland, prices remain well below the level they reached in November 2007, before the credit crisis hit. That month, the average price of a home in the region reached £130,000. After that prices went into reverse, reaching a low of £96,500 in December 2012. In March this year the average value was just £98,770 – down 0.8% on a year ago, and 24% below the peak.
Hannah Parkin is visiting a friend on Carney Street. She's currently trying to sell a house in nearby North Skelton. "They're coming round to value it tomorrow. I paid £85,000 for it six years ago and last year it was valued at £75,000. If I want a quick sale I'll probably have to put it on for £60,000."
On Boosbeck High Street Terry Agar says he hopes to buy the modern house he is currently renting for his family but the landlord is not in a position to sell because he is in negative equity. "A house further along just sold for £136,000 and our landlord paid £170,000 so they can't sell it yet."
Lee Ingleby, an estate agent who covers the area from the nearby town of Saltburn-on-Sea, says the crash wiped out first-time buyers overnight. "Everything stopped immediately. We lost first-time buyers because they didn't have the 20% deposit that was being asked for." Ingleby says they are returning now that 95% mortgages are available again: "anything to help first time buyers is a bonus".
Naylor was one of those first-time buyers. She bought her home two years ago from a family friend. Her father, who lives a stone's throw away, had to act as guarantor to get her a mortgage, but now she has qualified as a nurse she is taking over the loan. She's fairly typical of buyers here who, agents say, tend to come from within a 10-mile radius.
But Saltburn-by-the-Sea attracts buyers from far and wide, with its golden beach and streets dotted with independent shops; so much so that a flat on the seafront is priced at £280,000. But the overspill doesn't reach the four and a half miles to Boosbeck, even though you get a lot more for your money.
Round the corner from Carney Street, another local agent, Kay Richardson of Hunters, is marketing a generously proportioned family home for £149,950 – down £25,000 since she took it on from another agent. It's set on a hillside with a view across to the sea from one bedroom and across rolling hills from another. Some rooms need sprucing up, but a smart new carpet on the staircase and genuine parquet floors in the kitchen must have impressed the half dozen potential buyers who have trooped round since it went to on the market in February.
There's been some interest, says Richardson, but they all need to sell homes first, and things just aren't moving quickly.
She has been an estate agent through more than one housing crash and says this recovery has been the slowest. "It's been more than six years and we're still not back to where we were."
If the Bank of England raises interest rates to cool the market in the south it would be a disaster here, she says. "People round here don't have a lot of money so any increase is going to have a significant effect ... Our first-time buyers will disappear but people will still need to move. They will find the only way to sell their property is to cut the price and so we'll have more negative equity."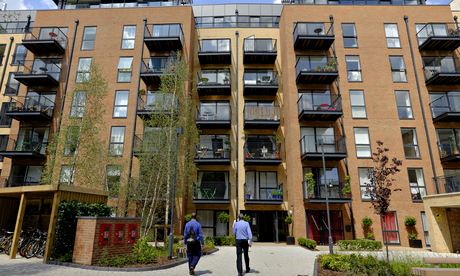 'We're not scratching around for buyers'

Some 260 miles south, Carney Place in Brixton is at the heart of the property bubble. The development, which arrived in London at around the same time as the Bank's governor, is made up of four smart, concierge-served blocks of mainly one- and two-bedroom flats.
Set back from Coldharbour Lane, it is handy for the station and the bustling Brixton Village – the foodie end of the local market – but protected behind secure gates.
A bright one-bedroom flat on the sixth floor is on the market for £449,000 – three times the price of the house in Boosbeck, even though, at just 490 sq ft, it is less than half the size. There's a living room with kitchen, a 13'x10' bedroom and a bathroom. It's not clear where the lucky buyer with nearly half a million pounds to spend might store items such as an ironing board or vacuum cleaner.
Leigh Munday, who is selling the apartment for estate agents Kinleigh Folkard & Hayward, expects it to go, quite rapidly, to a first-time buyer or investor. "People have got the money round here," he says. "We're not scratching around for buyers."
Property prices in the borough soared 22% in the year to March and now stand at an average of £462,600 – well above the November 2007 level of £353,400.
Prices have been driven up by buyers, especially young professionals, who previously would have bought more centrally, but have been priced out of those areas by overseas investors.
But if the average price sounds high, flats in Carney Place appear to have rocketed even faster. The flat KFH is selling for £449,000 was last sold just a year ago for £270,000.
Adrian Burch, manager of the local branch of agents Haart has just sold another flat in Carney Place. He won't say what it went for, only that it was significantly higher than the £400,000 asking price. "The client [seller] had bought it off-plan and it suited them to sell now," he says, adding that when the development was first marketed 18 months ago, one-bedroom flats were sold for as little as £220,000.
Burch says the scale of the Carney Place gains is not unusual. "That kind of increase isn't isolated to there at all. I was at a valuation yesterday for an ex-council flat which two years ago I'd put at £180,000 to £190,000. Yesterday I valued it at £290,000."
Burch says buyers usually have at least a 10% deposit – either equity from another property or, among first-time buyers, from the Bank of Mum and Dad. "We see parents saying: 'Have your inheritance early, here's £250,000, put it in property so you can get on the ladder'".
Somewhere between the tales of negative equity in Boosbeck and the cash-rich buyers of Brixton lies a fine line for the Bank of England to tread when its committees weigh up the potential impact of any action to steady the housing market. "The challenge is that any intervention needs to be selective, [and not] stall the recovery elsewhere," says Stephen Noakes, director of mortgages at Lloyds Banking Group.