UK house-building crisis – and how to solve it
05-22-2014
Shortage of homes adds to the risk of a bubble – but policy-makers could help, property industry says

Hilary Osborne

The Guardian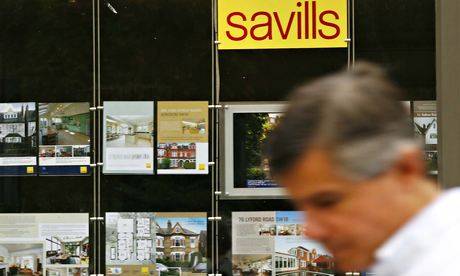 A pedestrian walks past a branch of Savills
A branch of Savills: the estate agent has added its voice to warnings about the UK housing marketi Photograph: Luke MacGregor / Reuters/REUTERS

Estate agency Savills has added to the alarm over Britain's property market by warning of a "housing crisis" stoked by a shortage of new homes.
The intervention of Savills follows comments by the governor of the Bank of England, who warned of "deep structural problems" in the British housing market stemming from a shortage of fresh stock. Mark Carney's words have increased the pressure on the government to speed up the planning process and row back on reforms that have devolved house-building decisions in England to local authorities.
Savills has estimated that the shortfall in homes in the south of England will reach 160,000 in the next five years, unless local authorities act to make more building possible. "The talk of bubbles may be misplaced in a strict sense, but talk of a housing crisis isn't," said Savills in a report published on Tuesday.
The biggest deficiency is in London, where 14,400 more homes a year are needed to meet demand than are planned for by the Greater London Authority (GLA).
Susan Emmett, residential research director at Savills, said: "While the Conservatives have not set a house-building target, it has been the coalition government's policy to support the housing market as a mechanism for stimulating consumer confidence, creating jobs and therefore supporting economic growth. The general consensus on the need for more homes, however, masks local disagreements over what is to be built where."
The warnings come 10 years after the Labour government asked the economist Kate Barker to review the housing market. She said that to reduce the long-term trend in house price increases to 1.1% a year – compared with the current rate of more than 9% a year – would require 260,000 homes to be built annually. Since then, an average of just 115,000 homes have been built in the private sector each year. In March, the Home Builders Federation said that the shortfall, combined with new forecasts for demand, meant 320,000 homes a year were needed to hit the 1.1% inflation target.
In the long term, more garden cities such as Ebbsfleet in Kent might provide an answer. But in the shorter term, the policymakers could do the following:
1 Streamline the planning system
Once land is bought, developers then have to work with local authorities to agree a number of issues before securing initial planning permission, including levels of affordable housing, infrastructure requirements and what payments need to be made towards local services such as schools and hospitals. Once outline permission is granted, the developer will then be given a list of "pre-commencement conditions" to meet before building can start. This might include providing plans for landscaping or drainage. The Home Builders Federation has estimated that around 185,000 plots are stuck at this point. "It is taking too long to finalise permission once a decision has been made that you can build somewhere," said a spokesman for the HBF.
2 Force local planning authorities to be more ambitious
In 2012 the government devolved some planning decisions to local authorities. They are now expected to come up with a five-year plan showing the demand for new homes in their area and the land supply to meet it. Analysis by Savills shows a gap between what they say they will provide and the demand for new homes. In London, the east of England, the south-east and south-west, the gap equated to a shortfall of 160,000 homes over the next five years. "Local authorities need to do a better job of estimating demand and planning for it," said Emmett. "They also need to work with neighbouring authorities to deal with overspill, particularly in the home counties where there is overspill from London."
The problem in some areas is that new building would need to be on greenbelt land. Emmett said a review of greenbelt land was necessary as London becomes more crowded. Currently, 13% of the land in England is designated as greenbelt, compared with 2% which is built on.
3 Fund more social and affordable housing
In 29 of the 30 years up to 1978, local councils built more than 90,000 homes a year, in part replacing old and war-damaged stock, but also adding new homes. In 1999 the number was just 50. Housing associations, which are privately owned providers of social housing, meanwhile created an average of just under 19,000 homes a year.
Figures released by the government last week showed that in 2013/14 just 840 new homes were completed by local councils and 22,150 by housing associations in England. Meanwhile 11,238 council homes were sold off through right to buy in England, compared with 5,944 in 2012/13.
A recent report from housing charity Shelter and consultancy firm KPMG called for councils to be given more scope to finance affordable housing. Under the current regime they can borrow against future rental income but the amount is capped and some councils are at their limit. It is estimated that if the cap was raised by £7bn councils could provide an extra 12,000 homes a year between them.
"Since local authorities ceased to be significant builders in their own right, we have not built enough homes to satisfy demand in England," the report said. "Housing associations now supply most of our affordable homes, but have never made up the gap."
The report also recommended a housing investment bank funded by the public through their Isas and other savings which could provide low-cost, long-term loans to affordable home providers.
4 Back small builders
According to Shelter/KPMG reports, the smaller end of the housebuilder trade is in decline. Since the recession, the number of builders producing fewer than 30 units a year has declined by half, while the number of medium-sized builders has shrunk by almost two thirds. Giving small and medium-sized builders access to cheaper credit could, according to the report, support the development of an extra 3,000 homes a year.
Encouraging developers to get involved with custom-build homes, where buyers can have more say in the property, could encourage more building, Shelter argues. Under this proposal, several homes can be built simultaneously by different firms on the same site.
5 Retain the first part of Help to Buy
The first part of the government's Help to Buy scheme offers buyers an interest-free loan worth up to 20% of the value of a new-build home. Developers say it has been driving the supply of homes as well as demand. Government figures showed that in the first year of the scheme it had been used in just under 20,000 purchases. The HBF said that the scheme had been vital in bringing buyers back to the market after the financial downturn. "If buyers can't buy, builders can't build," said a spokesman. "In recent months this has made a huge difference to the housing starts figures."
However, it is clear that the benefits are patchy. In some areas, eight out of 10 new-builds have been bought through Help to Buy, while other local authorities have seen no impact. At the end of March, 37% of newbuilds in the east London borough of Barking and Dagenham were funded by Help to Buy, according to Savills. So there is evidence that it could help ease the capital's housing shortage, although most new-builds in London are not bought through the scheme.
• This article was amended on 20 May 2014 after Savills provided a new figure for Help to Buy sales in Barking and Dagenham