Plans go in for £2bn Nine Elms scheme
05-29-2014
The Vinci St Modwen (VSM) joint venture has submitted its planning application for the £2bn regeneration of the 57-acre New Covent Garden Market site in Nine Elms, London with its partner, Covent Garden Market Authority (CGMA).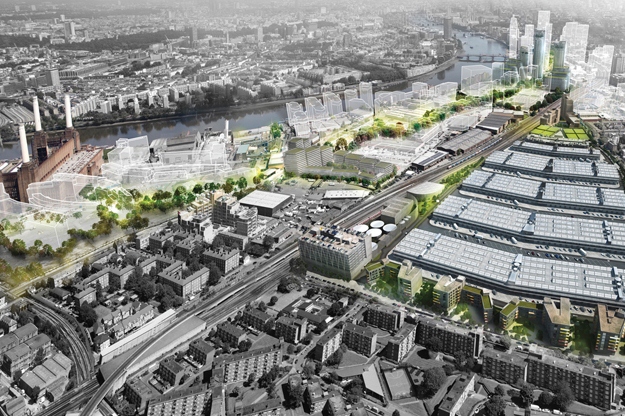 CGI of the scheme
Above: CGI of the scheme
The project provides new facilities for New Covent Garden Market, the UK's largest fruit, vegetable and flower market, and releases 20 acres of surplus land for house-building. VSM is seeking permission for approximately 3,000 new homes on the south bank of the river Thames, as well as 135,000 sq ft of new office space and 100,000 sq ft of retail, leisure and community facilities, including shops, cafes and restaurants.
The designs build on the planning permission already secured by CGMA in 2012. The proposals will provide more than 500,000 sq ft of modern market facilities consolidated on one site. This will sit alongside a new Food Quarter, part of the new market, known as The Garden at New Covent Garden Market.
VSM has been working on the plans since signing its deal with CGMA in January 2013.
The development area sits between Vauxhall and Battersea bridges, scene of construction of new US and Dutch embassy buildings and, of course, the Battersea Power Station redevelopment. London Underground is planning an extension of the Northern Line and two new tube stations to serve all of this new development.
Subject to receipt of planning permission, VSM aims to start work on the new market next year.
St Modwen chief executive Bill Oliver said: "This latest milestone is a hugely important step forward for this vital and complex regeneration project which will act as the gateway to the Vauxhall, Nine Elms and Battersea Opportunity Area. Over the last 12 months, VSM has worked closely with CGMA and the market community, as well as key stakeholders, to refine these plans and present a world class development that will create jobs, attract investment and transform this important part of Nine Elms.
"We are now looking forward to working alongside Wandsworth Council to secure planning approval and, with CGMA, to transform the area into a lively and exciting new quarter for London."

www.theconstructionindex.co.uk