London house prices in April see record 4.2% rise
05-31-2014
Calls for government to rethink Help to Buy after Land Registry records biggest jump since records began in 1995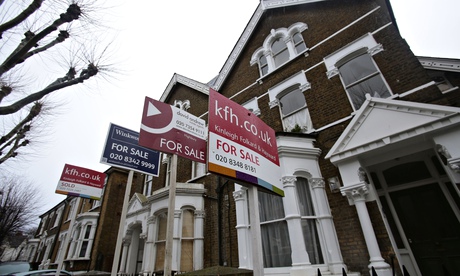 Hilary Osborne

London house prices

House prices in London break growth record. Photograph: Yui Mok/PA

London house prices leapt by 4.2% in April, helping to drive the overall rate of price inflation in England and Wales to 1.5%, according the latest figures from the Land Registry.

The rate of growth in the capital was the steepest monthly rise there since records began in 1995, and well in excess of the previous high of 3.2% recorded in April 2012, and prompted renewed calls for the government to reconsider its controversial Help to Buy scheme.

However, it was not the highest in the country. In Gateshead prices were up by 4.4% over the month, while in South Tyneside they rose by 4.3%.

The figures, which are for sales that have been completed and registered during the month, came as some estate agents said the capital's housing market was starting to cool and the boss of Britain's biggest building society said he believed it was heading for a "natural correction".

The seasonally adjusted figures from the Land Registry showed strong growth in other regions, with Wales and the north-west of England seeing April price rises of 2.9% and 3% respectively, however these followed hefty falls in March.

The average price of a property in England and Wales is now £172,069, according to Land Registry, 6.7% higher than in April 2013, but below the £181,572 peak recorded in November 2007.

In London, the average price returned to 2007 levels two years ago, it is two-and-a-half times the national average, at £435,034, and 17% higher than in April 2013.

While most regions of the country did record price growth in April, in the north-east prices fell by 1.9%, offsetting some of a 2.7% increase in March. Homes across the region changed hands for an average of £99,001 during the month, still markedly down on their £129,077 peak.

Land Registry said 69,830 residential property sales in England and Wales were lodged for registration in April 2014, ranging from a property costing £12,000 in Bishop Auckland, County Durham, to a £24m home in the London borough of Kensington & Chelsea.

Because the figures are based on completed sales, they lag other indices based on mortgages at the approval stage and sentiment among estate agents and surveyors.

On Friday, Hometrack said its survey of agents suggested price growth slowed in May, with the number of postcode areas reporting rises falling from 50% to 42% and the average monthly increase in prices dropping from 0.6% to 0.5%.

Peter Rollings, CEO of London estate agent Marsh & Parsons, said 2014 had started strongly, with limited stock and fierce competition for available properties driving up prices.

"In the past six weeks, we have seen the wind change in the property landscape, restoring a new calm and steadiness to the market," he said.

"Property prices have plateaued as more property has come onto the market; however demand continues to outweigh supply, in what is still a 'seller's market'. This renaissance of supply is offering buyers more choice than they've enjoyed in recent months and is also good news for sellers searching for their onward purchase."

On Thursday, the government published figures for its flagship Help to Buy scheme, designed to help buyers with small deposits. The Treasury said the second part of the scheme, which offers a taxpayer-backed guarantee to lenders, had so far had its biggest impact outside London and the south-east and among first-time buyers.

David Newnes, director of estate agency chains Your Move and Reeds Rains, said the Land Registry data underlined this. "The housing market recovery has spread its wings out from London and the south-east. Help to Buy has been instrumental – its impact has been felt most strongly in the north-west and east; areas where the recovery is still taking hold and there are still lower cost properties to be found," he said.

"The scheme has assisted thousands of first-time buyers realise their dreams of homeownership, but has also injected greater movement into the market as a whole – an increase in sales from the bottom has come in tandem with growing consumer confidence."

Although the Treasury figures suggested that limiting or withdrawing the scheme would not have a direct impact on the London property market, Matthew Pointon, property economist at Capital Economics, said: "The government has been claiming that the Help to Buy mortgage guarantee scheme is too small to be responsible for the rebound in house prices, yet at the same time it is providing a lifeline for thousands of first-time buyers.

"If anything the opposite is true – while helping only a lucky few, by raising house price expectations the scheme has pushed prices even further out of reach for the majority. Time for Mark Carney to pull the plug."