Reading and Brighton net biggest increases for buy-to-let investors
06-06-2014
Young professionals priced out of London push rental costs up, according to research by HSBC

Hilary Osborne www.theguardian.com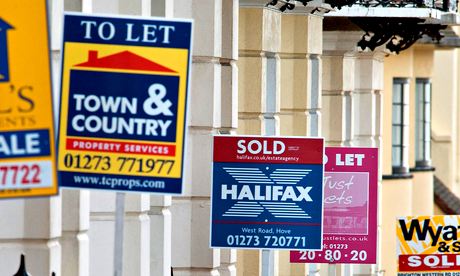 For sale and to rent …. it's a win, win as landlords can buy afforbable properties in Brighton and let to those priced out of London. Photograph: Alamy

Buy-to-let investors in Reading and Brighton have seen the biggest increase in rental returns over the past year as young professionals have been priced out of the capital, according to research by HSBC.
Yields are up by more than 12% in the two commuter towns, although Southampton took the title of the city where landlords stood to make the biggest monthly return.
Analysis by HSBC, based on figures from the Land Registry and website, home.co.uk showed that in Reading the average monthly rent is £950 while the average property price is £207,934, providing an average yield of 5.48%, up from 4.86% a year ago.
In Brighton the average yield has increased from 5.58% to 6.16% with monthly rents averaging £1,248 and properties changing hands for £242,535.
Just under a quarter of Reading's private housing stock is rented, the bank said, while in Brighton the figure is 28%.
"Landlords are reaping the benefit as young professionals say goodbye to capital living in favour of more affordable commuter towns," said Peter Dockar, head of mortgages at HSBC.
"Despite the inevitable increase in commuter costs associated with moving further out, many still feel it is worthwhile in order to save towards property deposits.
"House prices in these locations – while still out of reach of many first-time buyers – are relatively affordable for landlords investing in property and the demand from young professionals has pushed up rents and driven up the returns."
HSBC said the average return on a property in Southampton was 8.73%, up from 7.82% last year. The city's landlords benefit from relatively inexpensive house prices, at an average of £143,011, and strong rental demand driven by its position on the coast for seasonal workers and holidaymakers, together with its university students. The average monthly rent is £1,040.
Within London, the borough of Newham had the highest level of private rented property, with just under a third of private stock being rented. The average house price was £239,942 and the average monthly rent £1,200, providing a 6% yield.
Recent figures from the Council of Mortgage Lenders showed that the number of loans taken out to fund buy-to-let investments increased by 46% over the 12 months to March as existing landlords added to their portfolios and new investors looked for better returns on their money.