The house price windfall that is seeing Londoners cash in and move out
06-08-2014
With house prices rising in the capital by £4,500 a week, we speak to the families who have swapped postage-sized properties for spacious homes in the countryside

Juliet Stott The Guardian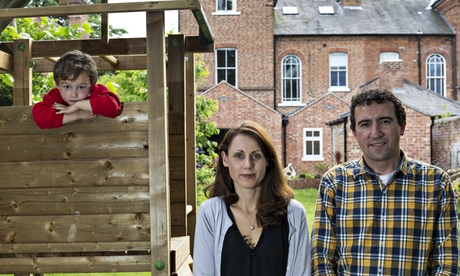 Kate, Alex and Isaac Jerfferson in their garden

Kate and Alex Jefferson and their five-year-old son Isaac have swapped London's Ealing for rural Nottinghamshire. Photograph: David Sillitoe for the Guardian

There's an exodus afoot in London, as growing numbers of homeowners cash in on the capital's sky-high property prices.Each month, thousands of Londoners are selling up and flocking to towns and the countryside beyond the M25. Many are trading shoebox-sized flats or tiny terraces with postage-stamp lawns for substantial family homes with bigger gardens – and, hopefully, a better quality of life. Some are managing to reduce their mortgage at the same time, too.
This week, property company Hamptons International issued research showing that during the past 12 months Londoners have bought 44,000 properties worth a total of £15bn outside the capital – the highest level in terms of both volume and value since 2007.
The firm claimed it had seen a "surge in activity" in the first few months of this year, and added that the gap between property values inside and outside the M25 was at its highest level ever, at more than £200,000.
Estate agent Tony Steer, from London firm Kinleigh Folkard & Hayward, who has been selling properties in the capital for 27 years, has been particularly surprised at the rapid growth in Hackney and the surrounding areas. A two-bed flat in Hackney or Stoke Newington on the market 10 years ago would have sold for £180,000 to £200,000 says Steer. Now these are going for well over £500,000.
It's a similar picture south of the river, where good train links keep places such as Herne Hill and Tulse Hill connected to the city. Property values in some of these areas have more than doubled in the past decade.
Jonathan Barry, an estate agent since 2001, has witnessed this transformation – especially in the borders between East Dulwich and Peckham. "A friend of mine bought a flat just off Lordship Lane for £60,000 about 12 years ago. That same flat is now worth £400,000," he says.
These trends are happening throughout London, which is tempting many to sell up. For some it is a once-in-a-lifetime opportunity to buy a property that previously would have been way out of their league.
So who is moving out, and why? Belinda Aspinall, who set up the website Lifeafterlondon.com two years ago, says: "There is a very specific group that move out – those who have very young children. There might be a deciding factor, such as schools, that spurs them into moving. But many of them want a more rural lifestyle."
Her website is aimed at those in the early stages of researching a potential new area, as well as people who have made the move but need information or advice.
Aspinall says the Home Counties are still very popular, as many people have to commute back into London. But she adds: "There are those who are a bit clever and look elsewhere, where you can get more for your money. Places like Northamptonshire, for example. It's across the border from Oxfordshire but much better value."
However, some of those who decamped from the capital perhaps six or 12 months ago may well now be regretting not holding on for a while; they have had to watch as their former property continues to soar in value. According to property website Rightmove, the average asking price of a home in London has risen by £4,500 a week since the start of this year.
Ed Mead, a director of estate agency Douglas & Gordon, says the recent pace of price rises has been deterring some homeowners from selling up in case they miss out on more growth.
However, Nationwide building society said there were "tentative signs" that the housing market may be starting to cool. The tougher mortgage lending rules now in place, plus widespread predictions that interest rates could start to rise early next year, could help put the brakes on.
From Ealing to Nottinghamshire
Kate and Alex Jefferson are 41 and 39. They bought their London home for £455,000 and sold it for £725,000. They have now bought a five-bed semi-detached Victorian house in a large village four miles outside Nottingham for £468,000. They live there with their five-year-old son, Isaac.
Kate says: "We bought our house in south Ealing in August 2009 for £455,000. We did a loft conversion and kitchen extension for about £90,000 and sold it last year, within two days of it being on the market, for £725,000. We could have probably got another £100,000 if we'd waited six months. We've reduced our mortgage by about £130,000. The equity on our place in Ealing would have bought this outright, but we wanted some money to do some work, so we took a small mortgage."
Kate says they know they are lucky to have enjoyed such an equity boost. She bought her first property in 1997 in Nottingham for £56,000, and sold it for £80,000 in 2000. That year, she moved to London and bought a two-bed flat in West Hampstead for £255,000, later selling it for £400,000. Meanwhile, her husband had a two-bed flat in Walthamstow, north-east London, which he bought for £167,000 and sold for £215,000. "We pooled our resources, which enabled us to buy our house in Ealing. Otherwise we wouldn't have been able to afford a house – we'd still have been in a flat."
Kate adds: "We've moved out of London for a lifestyle change. We had a tiny postage stamp-sized garden in Ealing. We wanted a bigger garden and a smaller mortgage. My husband is a project manager in construction but he changed roles when we moved, so he's become office-based, and I've recently retrained as a primary school teacher – I was in communications before. I'm currently working three days a week in a lovely village school. I'm earning a pittance now but we've still got more money each month – for holidays and things. We went on holidays when we lived in London but the move has relieved the pressure on the bank balance. London is such a strange market. We feel very lucky that we've been able to take advantage of that."
From Rotherhide to Chiddingstone, Kent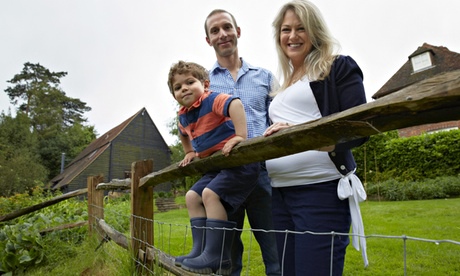 Anna and Alex Toynton with their son Freddy
Photograph: Teri Pengilly
Anna and Alex Toynton are 34 and 37. They bought their London properties for £585,000 in total and sold them for £765,000. They have now bought a four-bedroom rustic barn conversion in the Chiddingstone area of Kent, near Tonbridge, for £825,000, where they live with their son Freddie, aged three. The couple have a baby on the way.
The couple's main home was a two-bed warehouse conversion flat in Rotherhithe, south-east London, which they bought for £385,000 in autumn 2010, and sold for £465,000 in the summer of 2013. They also owned a two-bed flat in London's Docklands, which they bought at the end of 2004 for £200,000 and subsequently let out, plus a two-bed cottage in Dunks Green, near Tonbridge, which they bought for £245,000 in autumn 2009. They sold these two properties for £300,000 and £295,000 respectively in the spring of 2013.
Anna says: "When we had Freddie in spring 2011, we couldn't continue living between two tiny properties in Kent and London. So we sold all three and bought a proper family home. We were attracted to our house for the space, gardens and it being a detached property. It's in a village with a community and a good local primary school, and where our neighbours are similarly minded people. We wanted to be able to have garden parties in the summer and cosy log fires in the winter. In London we couldn't have got all this."
She adds: "In Rotherhithe, a large two-bed penthouse flat was £900,000, and we suspect that in Greenwich, where we looked at buying, we only would have got a three-bed terraced house with small garden and on-street parking for the same amount."
Anna is a solicitor and her husband is a banker, so they still commute back into London. "It's an hour and 15 minutes by car and train. I always get a seat on the train. It's one stop, then I'm into London."
She adds: "There's no contest in terms of the quality of living. We now spend 80% more time outdoors. We entertain friends and family more at home and we go to restaurants less. My son goes out before breakfast to feed the ducks in his wellies and PJs. I can't get him in at night because he wants to play on his climbing frame or play rugby with his daddy in the garden. We grow our own vegetables now and cook on an Aga. Everything about living down here seems much more healthy and natural.
"We didn't max our budget, as we wanted to use savings to do up the property and extend by adding a couple of additional bedrooms and bathroom. On the other hand, we are not mortgage-free. We wanted to move somewhere that ticked all the boxes but didn't break us financially, so we can still afford to take holidays."
From Parsons Green to Brampton, Cambridgeshire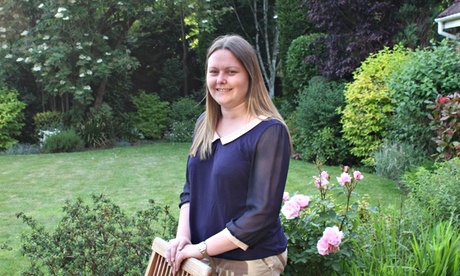 Natalia Doncaster in her garden
Natalie Doncaster is 37 and her partner Ryan Burford is 36. They bought their London home for £120,000 and sold it for £380,000. They have now bought a four-bedroom detached house in Brampton, near Huntingdon, Cambridgeshire, for £437,000.
Natalie says her partner bought a new-build one-bedroom flat in Parsons Green, in the London borough of Hammersmith and Fulham, in 2008 as part of a shared ownership scheme for £120,000.
She adds: "It was originally valued at £280,000, but by the time we started looking to move, at the end of 2012, the value of the flat had gone up to £380,000. We looked at two-bed properties around Fulham that were going for well over £500,000, which would have stretched our finances. We then looked at going to east London, towards Woolwich – where we could have afforded a two-bed flat for the same prices as our one-bed was going for. But there was a bit of unrest over there which put us off the area."
She then found the Lifeafterlondon website, which had an article about where you can live within an hour's commute from London. "At the time, it was taking me about an hour to get from Parsons Green to Canary Wharf, where I work. I had to wait for three or four District line trains to go by before I could get on one, as it was so busy in the mornings, and then I had to stand the whole way. It was awful. I thought, 'if it takes us an hour to get across London, why not look at places to live within an hour's commute?'
"We put our flat on the market last May. We had 20 people view it over that first weekend, and had eight offers of interest. We rented for six months up here and have just bought a four-bedroom house for £437,000. We sold our flat for £380,000, but our neighbours in London – in the six months that we were renting – sold theirs for £430,000. It was exactly the same."
Natalie says the total floor space of their London flat was 50 sq metres. "Now, we've got 180 sq metres, with a garage on top of that. We live in a village which is a mile from Huntingdon station and a 45-minute commute to King's Cross. It takes me an hour and a half to get to work from here. In Parsons Green there were tubes going past every four minutes and we were right under the Heathrow flight path – there was constant background noise. Now we have country parks and woodlands on our doorstep. We've got a garden that we can sit in and it's so tranquil. We both still work in London [as chartered tax advisers], so we've got the hustle and bustle during the week – but as soon as we get on that train from King's Cross, it's lovely and quiet and like a sleepy wind-down."
From Mortlake to Weston Patrick, Hampshire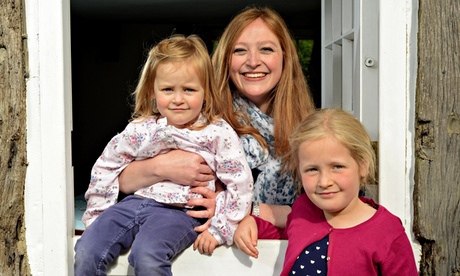 Rebecca Fletcher with Cecilia, 5 and Felicity, 2
Photograph: Simon Czapp/Solent News
Rebecca and Richard Fletcher are both 34. They bought their London home for £450,000 and sold it for £650,000. They have now bought a 17th-century four-bedroom house in Weston Patrick, near Basingstoke, Hampshire, for £638,500, where they live with their daughters, Cecilia, five, and Felicity, two
The couple bought their house in the capital – a three-bedroom cottage in Mortlake, south-west London – in 2007, "at the top of the market", for £450,000. "It was a two-bed railway worker's cottage. We then made it into a three-bed by doing an attic conversion. We've gone from a three-bed cottage with very little downstairs living space to a four-bedroom house that is much bigger. In London we had a garden no bigger than the size of a shed, and now we've got a massive one."
Rebecca adds: "Our current house cost less than our one sold for in London last August. The difference has enabled us to renovate this house, and it's also meant I don't have to go back to work."
Rebecca quit teaching after they had their second baby. Before they moved, she started her blog. "It's about townies who move to the countryside. All of a sudden, on the back of that I started getting more freelance writing offers. I now write for the National Farmers Union and the National Trust, and write content for websites. I've gone from being a townie to having four hens, three lambs and being a country columnist for Hampshire Life. I've become a farmer overnight, which is a bit bizarre. I couldn't have changed my life any more."
She adds: "We were looking for more space, and we knew we couldn't afford the next stage up in London where we lived. We needed to move out – but within commutable distance as my husband, who is a lawyer, still works in London every day. It's one hour 20 minutes door-to-door. Some of our friends think we're completely bonkers; others think 'If they've done it, then it's do-able'."
From Wandsworth to near Winchester, Hampshire
Jayne, 41, and Ned*, 40, bought their London home for £1.2m and sold it for £2m. They now have a six-bedroom manor house (plus two bedrooms in the annex) with swimming pool near Winchester, Hampshire, which they bought for £2.2m. They live there with their three sons.
Jayne and her husband Ned lived in Wandsworth, south-west London, for more than 10 years, and bought their last house there in 2006. They paid £1.2m for the five-bedroom property, spent £300,000 on renovations and improvements, and sold it in April 2013 for just over £2m within three weeks. It went to sealed bids.
Jayne says: "We now live just outside Winchester. All five of us had certain things on our wish list, and the house we found had everything. The boys wanted a tree house and a stunt ramp in the garden. I really wanted a pig, some chickens and somewhere to grow my vegetables. My husband wanted to see trees and sky. Internally we wanted tall high ceilings and a kitchen that was in the centre of the house, not at the back, like so many we'd seen.
"We were meant to be sensible and put our money in the bank and not spend so much of it. But we maxed our budget. The equity from our Wandsworth property helped us buy a much bigger house. We've maxed the mortgage as well. We put the dream first, I suppose. Our property was built in the 1890s – it has the word manor in it. It's taken me quite a long time to get used to saying that."
Ned, who works as a sales director, commutes from Winchester to Camden each day, which takes him two hours each way, although he does work one day a month from home. "That's been the hardest part," says Jayne. "He used to leave home at 8.30am when we lived in London. He now leaves the house at 6.30am and doesn't get back until between 7pm or 8pm."
She adds: "The best things about moving are the space and the stars at night. The people aren't in such a rush here, either – they genuinely want to talk to you. When I go into our local town I make time to chat to the butchers … it does feel like you are genuinely part of the fabric.
"We decided to move because boys bounce. We had a small garden in London but couldn't interact with them there – you always had to take them to the common or put our bikes on the car and go somewhere. Our weekends are very different now that we don't have to micro-manage everything. The boys now do things in the garden. So I can be digging away putting my seeds in my greenhouse, and the boys can be whizzing round on the ride-on mower or chopping up a fallen tree with an axe and putting it into the woodshed, or we can go for a walk or go and explore a part of the country we don't know."
* Not their real names