Working poor forced to spend half their income on housing
08-17-2014
Resolution Foundation highlights problems of households struggling with mortgage payments or rent as wages stagnate

Hilary Osborne

The Guardian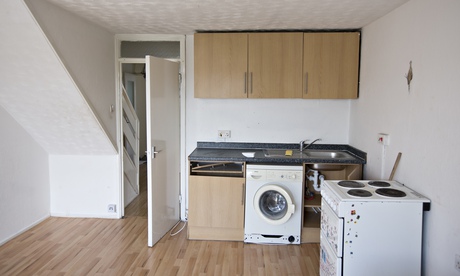 London apartment

Struggling households include young people renting one-bedroom properties privately in London. Photograph: Graeme Robertson for the Guardian

Almost 1.6m homes are now forced to spend more than half of their disposable income on mortgage payments or rent as wages stagnate, according to figures published on Friday.
The Resolution Foundation said households struggling with housing costs were typically young people renting privately and living alone in one-bedroom properties in London.
Laura Gardiner, an analyst at the thinktank, which carried out the research, said the majority of people paying out half their incomes on housing were in work but on low and middle incomes, leaving little left over after housing costs to spend on other essentials.
She warned: "With house prices and rents rising in some parts of the country, interest rates expected to start to go up, and income growth remaining weak, we should be concerned about the ability of this group to absorb additional pressure on their household budgets from higher mortgage payments and rents."
Data from the estate agent LSL Property Services showed rents rising more quickly than inflation, increasing by 2% since July 2013. LSL said the average monthly rent across England and Wales was now £753.
The Council of Mortgage Lenders (CML) also issued a warning on interest rates on Thursday, despite reporting a fall in the number of borrowers struggling with repayments.
The CML's director general, Paul Smee, said: "Rates will rise at some stage, of course, and borrowers should be planning for that now. We welcome the message from the Bank of England that, when it raises rates, it plans to do so in a series of 'baby steps', matched to a careful assessment of the ability of households to deal with higher borrowing costs."
About 5,400 properties were repossessed by lenders in the spring, the CML said, bringing the total for the first six months of the year to 11,800 – the lowest number since the second half of 2008.
Almost a quarter of those homes, 1,300 properties, were on buy-to-let mortgages, while the rest were standard residential loans. The number of borrowers who had fallen behind on repayments also fell during the second quarter, the CML said.
While previous recessions have typically led to a rise in repossessions, during the recent financial crisis borrowers benefited from low interest rates, which allowed many households to meet repayments despite stagnant pay and other financial pressures.
The Bank of England has indicated that rates will rise within the next year, although a policymaker on its rate-setting committee said it would not act hastily. Speaking to BBC Radio, David Miles said the recent fall in inflation to below the Bank's 2% target was "very good news because it means that we're not going to be pushed into raising interest sharply". Indications that the property market could be cooling, particularly in London, could also take pressure off the Bank to raise rates to slow house price growth.
Bev Budsworth, managing director of the Debt Advisor, warned that many borrowers could struggle if rates did rise too quickly. "Although the economy is in recovery for some, for hundreds of thousands of people their finances are on a knife edge, held in check only by the historically low interest rate," she said.
"However, with wages at their slowest level of growth for over a decade, these people are merely 'treading water' in terms of their finances – often on interest-only mortgages and often with no financial contingency to cope with rising bills."