Record August slump in house prices
08-19-2014
Average asking price of new sellers in England and Wales was 2.9% lower than in July, with London prices down 5.9%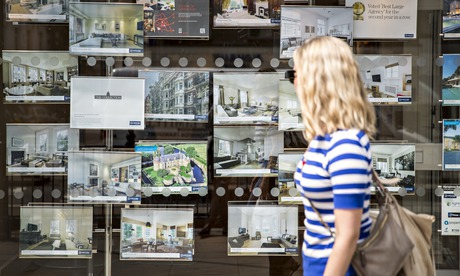 The average asking price for homes that came on the market last month was 2.9% lower than in July, a record fall for the month of August, according to the property website Rightmove.
Asking prices usually fall in summer but last month's figure was exacerbated by a steep drop in expectations in London, where new sellers have come in at lower prices for three months in a row as an influx of homes on the market has forced them to price more competitively.
Across England and Wales, the average asking price fell by £7,750 compared with the previous month, the biggest dip since Rightmove began collecting the data in 2001. In London, the price drop was 5.9%, far bigger than the falls in June and July.
There were price drops in every London borough, with the biggest fall in Wandsworth, which includes areas such as Battersea and Clapham that had been roaring ahead. Prices of homes that came on sale in August in the south London borough were £72,000 lower than in July, at an average of £786,000 – although that remained 12% higher than the August 2013 average price of £702,000.
Rightmove's data shows that, across England and Wales, asking prices have fallen nearly £10,000 since June, cooling the annual rate of growth from 6.5% to 5.3%. Prices fell in all regions except the north of England, where they rose by 0.5% month on month and remained unchanged from last August.
Outside London, East Anglia had the biggest price drop, with sellers putting their properties on the market for an average of £251,214 – 4% below July's figure.
Miles Shipside, Rightmove director and housing market analyst, described the fall in London as "a real biggie". He said: "Holidays always cause a big price reverse in the capital, but there is also a massive year-on-year jump in the number of newly marketed properties, up 20% compared to August last year, and double the figure seen in any other region.
"New-seller asking prices are good lead indicators of the current mood of the market, and those who have put their property up for sale in the last month are obviously aware that potential buyers are thinner on the ground at this time of year and need to be tempted to act by cheaper prices."
Although asking prices are higher than a year ago in all areas except the north, the London market had been key in driving up the national average, and is now a big factor in its fall. Buyers in the capital have been hit by stretched affordability, and have become less inclined to take on big mortgages as expectations of interest rate rises have increased. At the same time, sellers have been entering the market in larger numbers than at the start of the year, with some keen to cash in before prices stall.
Last week, figures suggested the mortgage market had bounced back after the introduction of new lending rules in April, but Rightmove's data suggests the second half of 2014 is likely to see a slowdown in price growth.
Shipside expected to see more price falls next month before the usual autumn flurry of activity. "It will, however, come as some relief to the Bank of England that there are signs the market is effecting its own natural slowdown without a rate rise, though underpinned by greater awareness among the public that the five-year holiday of record low interest rates is coming to an end," he said.
Tim Hays, of Battersea estate agents James Pendleton, said "At some points during the past eight months, property was coming to the market and being sold within one week, often with a sealed-bid auction involving multiple buyers. The pace has now slowed, however, as values have reached an all-time high and we are now seeing buyers being more cautious."
Simon Gerrard, president of the National Association of Estate Agents, said recent speculation about looming rises in interest rates was affecting buyers who did not want to be "hamstrung by rates going up".