London falling? The capital's housing boom may not be finished yet
08-25-2014
Despite data suggesting the demand for homes may be easing, property experts are still upbeat about prospects for growth
Hilary Osborne The Observer
Homes in north London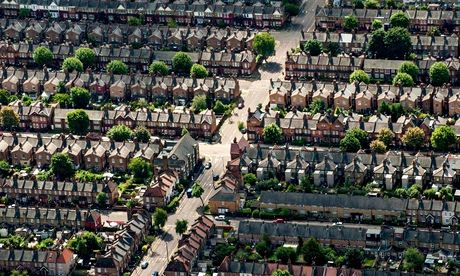 Homes in north London: any slowdown in the capital's property market is just a 'pit stop', according to one estate agent. Photograph: Dominic Lipinski/PA

A seemingly unstoppable London housing market, powering activity that ripples out through the south-east; select boroughs in the capital seeing prices soar by a third in a year – it could all have come to a stuttering halt in August.
Seven years to the month since the credit crunch hit, triggering house price drops that parts of the country have still not recovered from, a clutch of recent reports have pointed to the first signs of cooling – predictably, inside the M25.
On Monday last week, property website Rightmove said asking prices for new properties coming on the market in the capital were down by 5.9% in August; it was the third month running that sellers had reduced their expectations and the biggest drop the website had recorded.
Estate agents in London agree the frenzy has eased, as new rules on mortgage lending, increased expectations of an interest rate rise and more stock for sale have all tipped the market in favour of buyers. But has the market actually turned? We asked agents and property market experts.

Jimmy Carr of Kinleigh Folkard & Hayward in Clapham has seen dizzying price rises in his area of south London. In early summer some were changing hands for 40% more than they would have in 2013. He said recent weeks had seen a fall in buyer numbers and an increase in the number of for-sale signs. "The prices had got to the level where people were unwilling to pay in case they were paying over the odds," he says. "The froth has come off the top and the market has found its level." Carr says that some properties are still attracting rival bids, but "we're not getting 50 buyers through the door on the first weekend any more". He adds: "I think there is still going to be growth for the rest of the year but it has definitely slowed somewhat."
The view from outside the south-east is somewhat different. In much of the Midlands and the north, prices are still lower than they were before the financial crisis and affordability constraints are not biting as hard, so estate agents feel confident that activity and prices will continue to increase. Mark Whincup, of William H Brown in Headingley, Leeds, says prices there are up by 4% year-on-year – but, at an average of £166,000 across the firm's branches in the city, are still below the pre-crisis peak. I don't think we're going to get back to 2007 prices for some time, although activity has returned," he says. "We're pretty confident about where prices are, but surveyors are still wary and we are seeing down-valuations."
Whincup says the Leeds market tends to lag behind London by some months, but with affordability still good he does not see any imminent reason for a slowdown. "We are selling things across the board, from properties on for £40,000 or £50,000 to those over £1m," he says. "Activity is strong and we have a range of buyers looking. We are still getting a lot of investors from the south because the returns are so much better."
Ray Boulger, senior technical manager at broker John Charcol, does not think the summer slowdown has been exceptional. "This year's downturn has been no more than usual – in fact it has probably been less," he says. "We aren't able to see if people are paying less for their homes than they would have a couple of months ago, but there has been a lot of activity."
There has been a change at the top of the market, he says, with prices falling in the most expensive parts of London as people realise they can get more for their money in other parts of the capital or beyond. "Since the middle of March, prices in prime central London have been declining. Enough people have taken the view that the price differential was so great that they should cash in and move out." This change has distorted averages across the capital, and may now be rippling out to wider parts of London: "The slight slowdown in London is having an impact on the national figures even though in some places prices are rising quite strongly."
With mortgage rates low and falling, Boulger thinks demand for properties is still high: and despite initiatives such as the first element of the government's Help to Buy stimulus scheme, which is focused on newbuild homes, supply still isn't keeping up. "All the signs are that house prices are going to continue rising quite strongly," he says. "The impact of [new rules] restricting 15% of lending to a multiple of 4.5 times salary from October is already in the market… in the short term I don't think it will make a difference."
Earlier this month, estate agency Haart said it had seen a fall in numbers of new buyers registering at its 42 branches in London. However, chief executive Paul Smith says: "This is not a 'cooling', more of a natural correction after a year of insatiable demand." He adds: "The market is still highly competitive with nearly 16 buyers chasing every property for sale in London and as a result prices in the capital are up on an annual basis – which is a more reliable indicator of trends than a monthly blip."
Smith says Haart has seen a surge of new homes coming on the market. "Supply of homes in London is up 32% annually according to our data and this is because homeowners are adopting a now-or-never attitude to selling to take advantage of the equity they have gained in their homes, as well as the availability of advantageous mortgage deals," he says.
And he suggests that the slowdown in activity could be short-lived. "We are witnessing a market pit-stop in the capital in preparation for sustained, long-term growth and predict a very busy autumn in terms of sales transaction volumes as people return from their summer sojourns. Property prices are not about to fall off a cliff."
The Royal Institution of Chartered Surveyors' monthly data gives an insight into levels of activity in estate agents' branches around the UK. Its most recent survey showed there was a fall in sales in London in July, with the average number agreed by each agent falling to 16, from 19 the previous month. At the same time, the number of new buyer inquiries fell at its fastest pace since April 2008.
Outside London, however, more agents reported a rise in sales than a fall, and in many areas buyer inquiries were still rising. Surveyors have slashed their five-year forecasts for rises in London from 9.3% a year to 4.6%, while across the country as a whole they have been reduced from 5.9% a year in March to 4.7%.
Josh Miller, senior economist at Rics, says: "Prices are still going up but at a slower pace. Price momentum is still quite firm, but activity momentum is cooling … The Bank of England has been incredibly successful in engineering a change of mood. The high-profile verbal interventions in interviews, where the governor has talked of interest rate rises, has made people think a bit before taking the plunge."
With average house prices now five times a buyer's salary, according to Halifax, the price-to-income ratio is running far in excess of its long-term average and has given would-be buyers even more reason to pause for thought before taking on a mortgage. "We are still expecting house prices to rise in London and nationally over the medium and long term, but we expect the capital to be more in line with the rest of the country and it to be a far more sensible market than over the past year," he says.
Ed Stansfield, chief property economist at Capital Economics, says the jury is still out on whether the market has cooled. Prices are being supported, he says, by growing signs of an economic recovery and continued unrest elsewhere in the world: "Ask any of the upmarket estate agents in London and they will tell you that, the day after you see the headlines, their phones start ringing with overseas investors looking to buy."
Given the rapid increase in London prices, it would be no surprise if they levelled off, but history suggests this would not lead to a slowdown outside the capital. "If the economic recovery is as well-founded as it looks and we do see a return to wages growth, there is no reason why prices should fall in the near future," he says.
But at the same time, Stansfield says, the downturn in the Rics survey of sentiment cannot be ignored, and there are several factors that have dampened buyers' enthusiasm: imminent interest rate rises; the speed at which prices have risen in recent months; and the suggestion that the Bank of England could step in to restrict lending. On balance, he says, "there are signs that some of the real frenzy has come out of the market, particularly in London.
"Some of the forward-looking indicators have been weaker, but that is yet to show up in any of the harder data like the Land Registry or Halifax indices. Some of the talk of a slowdown seems to be a response to the sharp drop in mortgage approvals earlier in the year, which now seems to be unwinding."
The figures on mortgage approvals from the Council of Mortgage Lenders last week ran counter to the surveys showing a fall in buyer activity, showing in contrast that gross mortgage lending had picked up significantly in July.
At £19.1bn, the total was the highest in almost six years, suggesting there has been a limited effect from the Bank's new rules designed to keep a lid on risky lending, which came into effect in April and brought stricter affordability tests for borrowers. Two caveats to the CML figures are that the loans in question were approved earlier in the year – possibly even months before being advanced – and that it is not clear how much of the lending was for purchases and how much for remortgages.
The CML revised up its forecast for lending this year; however, it is also predicting activity will level off at some point. "The data we published this week continues the pattern of strong lending figures we have seen since the start of the year," says spokesman Bernard Clarke. "But we have always thought that the combination of rising house prices and new mortgage rules would cause activity to level off, and what estate agents are reporting in parts of the country may be the beginning of that process."
Although confidence has returned, Clarke says the new affordability checks on borrowers would make it "more challenging for some buyers to enter the market". Affordability pressures could hit London hardest, he says, although he notes that the large number of cash sales and overseas buyers could support purchases.
"Overall, we expect the market in 2014 to be a lot more buoyant than last year," he says.
The CML is now forecasting lending to hit £208bn in 2014, 18% more than last year; that would be the first time since 2008 that the total has exceeded £200bn. The number of house purchases has also been revised up to 1.23m – 15% more than last year. However the organisation expects this to fall back to 1.15m in 2015.
Recent house price indices all showed the market was still going strong as the summer began. Until Nationwide releases its report for August on Friday, there is no data for prices on agreed purchases beyond July. For that month, Nationwide reported the smallest increase in 15 months – a rise of just 0.1% – and a fall in the annual rate of inflation. Rival lender Halifax reported that price inflation was picking up to an annual rate of 10.2% from 8.8% in June. The Office for National Statistics, which offers a more comprehensive view as it is based on mortgages agreed by a cross-section of the market, has only released figures for June. These show prices rose by 0.5% in the month to an average of £265,000, and that London continued to see prices going up by around 20%.
But all of this data is for agreed sales and reflects deals agreed before the summer holidays began. It will be some time before we can tell if the reduced pace of activity reported by Rics, and the falling asking prices Rightmove has reported, mark the beginning of the end of the recovery, or just the end of the beginning.