Another house price surge just around the corner
08-27-2014
House prices in the South-east, Midlands and the North are expected to get their "second wind"

A Strutt & Parker property in Cooters End, Hertfordshire
Property markets out in the regions could see a surge in house price growth as London cools.
By Anna White, Property and enterprise correspondent
UK house prices outside London are expected to surge in the second half of the year, as a leading estate agent revises its five-year forecast.

International property company Savills expects average annual UK house price to grow by 9.5pc this year, ahead of the 6.5pc originally forecast.

The revision comes off the back of frenzied rises earlier this year.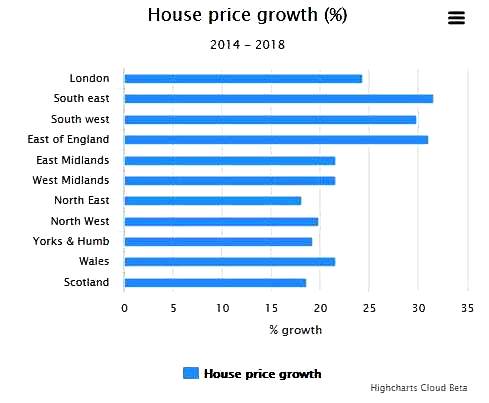 This will be followed by 4pc growth in 2015 and 25.7pc overall in the five years to the end of 2018.

Much of this annual growth is expected to come in the regions, as evidence mounts of the flow of buyers and equity out from the capital.
"The south and east of England were all originally forecast to show marginally higher levels of growth than London in 2014 (+7pc), but have in fact underperformed the capital to date.
Nonetheless, they too are now expected to end the year in double digit growth," said Lucian Cook, head of residential research.
These markets are expected to show the strongest five-year growth, outperforming London, which is fast becoming unaffordable for residents.
A boost in house prices in the midlands and the north is then expected to follow, as has been seen in previous cycles.
"House price growth in the mainstream market has been underpinned by record low interest rates, rising loan-to-income lending and pent up demand from buyers re-entering the market as the economy and consumer sentiment have improved," said Mr Cook.
The London market
The revised figures have been driven by record house price growth in London in the first half of the year, driving 15pc against a previously published forecast of 8.5 per cent, despite an anticipated slowing in the second half of the year.
So far this year values in London have significantly exceeded forecasts, with all expected to end the year well into double digits.
However, there are signs that demand is weakening, with lead indicators suggesting a change in sentiment in London.
Savills therefore expects a slowdown in London over the second half of the year.
"But these extraordinary rates of house price growth cannot continue in the current, more regulated mortgage environment, particularly in the face of likely interest rate rises," said Mr Cook.
Mortgages
Research by the company found that the total current cost of mortgage interest amongst owner-occupiers in Great Britain stands at £33 billion, a figure that is at the same level as a decade ago.
A 2 per cent rise in interest rates would increase the total current cost of mortgage interest among homeowners from £33bn to £54 billion, adding £2,360 to the average annual mortgage bill across England and Wales and £4,000 in London.
"Higher interest rates would increase the risks in sectors of the market where borrowers have taken on high levels of mortgage debt relative to income, but it is difficult to see this as a catalyst for a wholesale housing market correction, rather we anticipate a slowing of growth, particularly in London and the south," said Cook.
Revised 2014 - 2018 forecast