A top state secondary school adds an average of £21,000 to house prices in the local area, with one school in Beaconsfield, Buckinghamshire, helping houses command a £483,000 premium over prices across the county, according to research by Lloyds Bank.
It named Beaconsfield high school, where 75% of all students' grades in recent GCSEs were A or A*, as the school that added most to local house prices and the town as the least affordable place for local people wanting to get their children into the school.
Average house prices close to the school stand at £797,000, 154% above the average for the county and more than 18 times gross local salaries, said Lloyds. However, the Beaconsfield area is prime "stockbroker belt" commuter territory and has always had higher than average house prices.
To live close to one of the top 30 state schools in England, parents pay an average premium of £21,000, with homes near good schools selling for £268,000 compared to the average national house price of £247,000, said Lloyds, which based its figures on Land Registry data.
Competition for property around the highest-rated schools is most intense in the south-east, with house prices close to the top 10 state schools in the region being sold 27% (£72,314) above the average house price in their county.
Property near Bishop Vesey's grammar school, in Sutton Coldfield, near Birmingham, was the second most sought after, followed by Clitheroe royal grammar in Lancashire.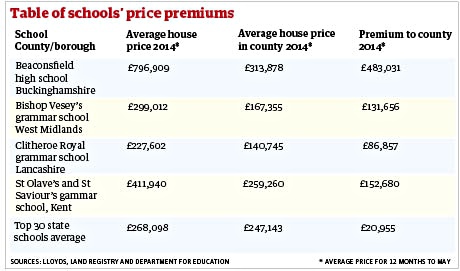 Nearly all the top 30 state schools have selective entry requirements, typically taking in the top 25% of children academically, and most also operate catchment areas from outside which they will not consider applicants. Beaconsfield, for example, accepts applicants from Beaconsfield stretching to another affluent suburb, Gerrards Cross, but excludes nearby High Wycombe and Slough.
The research found that it is possible to find good state schools in areas where house prices are relatively low. Heckmondwike grammar, in West Yorkshire, has results that place it among the top 30 state schools in the country (this year its 286 students achieved a thousand A-level passes between them), but where local house prices average just £99,000.
Barnet in north London also stands out as an area with some of the best state schools – albeit with selective entry requirements – and house prices lower than the average for the capital. Queen Elizabeth's grammar school and St Michael's Catholic grammar are in postcodes where property prices are around £430,000 compared with the £502,000 average for London.