Welcome to Sellafield, the last bastion of affordable house prices
09-02-2014
The area is one of the few areas where house prices are less than five times the average annual wage

Katie Allen

Sellafield nuclear power station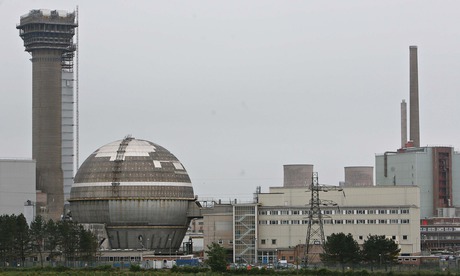 A general view of Sellafield nuclear power station. Photograph: Dave Thompson/AP

Easy access to nuclear reprocessing facilities is not usually a selling point in estate agents' marketing details. But for househunters in one corner of Cumbria the plant has one big benefit: Copeland, the west Cumbria borough that contains Sellafield, is now the only part of England with "easily affordable" housing still available.
A new report from the TUC has found that Copeland is the one local authority area in England where the average house price is less than three times the average annual salary. That is in stark contrast to 1997, when 72 local authorities – one in five – had average prices within easy reach of local homebuyers.
Sellafield provides thousands of relatively well-paid jobs to the area, pushing up average pay packets. The presence of the nuclear plant is a beacon of employment in an otherwise barren jobs landscape.
The area boasts impressive scenery, from Scafell Pike, England's highest mountain, to the Duddon estuary, a hidden gem where the river Duddon flows into the Irish Sea. And with house prices in Copeland's neighbour South Lakeland now eight times the average local salary, the TUC is clear that "the rest of the Lake District is by no means an affordable area to live".
The trades union group's report lays bare the effects that a lack of housing and stagnant wages are having on swaths of England. The
TUC general secretary, Frances O'Grady, said urgent action is needed to boost workers' pay and tackle a housing shortage.

"London always comes out top when it comes to horror stories about ludicrously over-priced housing," she said.
"But the toxic combination of rising property prices and falling real wages has meant that local housing affordability remains a huge problem for millions of people across the country.
"Houses and flats in traditionally affordable areas of the country – from Kirklees to Great Yarmouth and Plymouth to Oldham – are now out of reach for many local people."
Kensington and Chelsea in West London is the least affordable place to buy, with average house prices more than 30 times the average local salary in 2013, said the TUC. London boroughs also occupy the next five spots on the most out-of-reach list, among them Westminster and Wandsworth.
Copeland hosts more than 70% of Britain's higher-activity radioactive waste. Plans to build a permanent underground storage dump for nuclear waste in the area were rejected by Cumbria county council last year.
Geography can also be blamed for keeping prices down in Copeland. It takes about an hour to drive from the town of Whitehaven to Carlisle, and almost three hours to reach Manchester.

Growing inequality
The TUC found that affordability problems are most acute in the south of England, which no longer has any areas where average house prices are less than five times the average wage.
The analysis paints a picture of growing inequality, noting that back in 1997, only around one in ten local authority areas were 'out of reach' – with average house prices more than five times local salaries. By 2013 the number of 'out of reach' areas had increased eightfold, to more than 84% of local authorities.
"We need an ambitious programme of home-building to get house prices back under control," O'Grady added.
"But housing affordability isn't just about house prices, decent wages are just as important and there is a lot of ground to make up before we return to the kind of salaries that people were earning before the crash."
The report coincides with a new poll underlining parents' pessimism about their children getting onto the housing ladder. The National Housing Federation (NHF), representing housing associations in England, found more than two thirds of parents fear their children will not be able to afford to buy a home in future without their financial support. The poll of around 1,400 parents of children under 18 also found a quarter had were already saving money for their children's first home.
National Housing Federation chief executive, David Orr commented: "Children are facing the ticking time bomb of being priced out of the communities where they've grown up, and unless they are able to borrow from the 'bank of mum and dad' many will face living in their childhood bedrooms well into adulthood or renting for the rest of their lives."