House prices level off after 18 months of consecutive rises, says Hometrack
09-27-2014
Rupert Jones www.TheGuardian.co.uk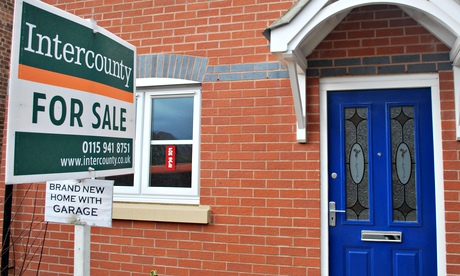 A house for sale in Nottingham. More than two-thirds of Help to Buy properties are newbuild homes, giving housebuilding a boost. Photo: Lewis Stickley/PA
A house for sale in Nottingham. More than two-thirds of the Help to Buy scheme properties are newbui

House-price growth has stalled for the first time in more than 18 months as increasing numbers of would-be buyers worry about warnings of a property price bubble and a looming rise in interest rates, according to the analysts Hometrack.
Prices did not change across England and Wales between August and September, Hometrack said on Friday. It is the first time that property values have not gone up since January last year.
London was in the grip of a "pronounced slowdown" in market activity, the firm said, whose data is based on a monthly survey of estate agents and surveyors. The capital was the only region to record a price fall this month – albeit just a 0.1% decline – with further declines predicted for the months ahead.
It said the overall UK market had been cooling since May but growth had now "completely stalled" following a tail-off in demand, with some would-be buyers possibly unsettled by the potential economic implications had Scots voted for independence in this month's referendum.

Its comments come days after the publication of strong house price data from the Office for National Statistics, which showed an 11.7% annual increase over the 12 months to July. But the most recent figures from the lender Halifax provided evidence of a cooling market, with its index showing average prices rose by 0.1% in August amid signs that more homes were coming on to the market.
Richard Donnell, director of research at Hometrack, said there was "a chill in the air" this month, adding: "This loss of momentum in price growth comes at the end of a very strong run of 18 months, in which the market was fuelled by pent-up demand, with Help to Buy fanning positive market sentiment. That surge of demand has now receded, bringing the latest cycle to an end."
The government chose yesterday to trumpet the success of its Help to Buy scheme, with new figures showing almost 53,000 households had bought a home in England through the state-backed homebuying initiative during its first 17 months. Almost 80% of buyers have never owned a home before, and more than two-thirds of the properties are newbuild homes, helping push housebuilding activity to its highest level since 2007, ministers said.
But Donnell said that with buyers becoming more scarce, they may now start to gain the upper hand over sellers.
Demand for homes fell by 2.1% this month, according to Hometrack, with the number of new buyers registering with agents falling in each of the past three months, while the percentage of the asking price that sellers are typically achieving again slipped back slightly, to 95.8%.
Donnell said the slowdown could be attributed partly to seasonal factors, including a slight hangover from a sluggish August, but added that estate agents were wary about the direction of the market, while buyer uncertainty was growing in the face of continued talk of interest rate rises, a general election on the horizon and recent warnings of a house-price bubble.
Separate research published on Friday showed first-time buyers are growing more concerned about an upward move in the interest base rate. Despite this finding, the number of house sales to first-time buyers in the UK was up 7% year-on-year in August, according to the estate agents Your Move and Reeds Rains. The firms said there were 28,300 first-time buyer completions in August, with the average price paid just shy of £152,000, some 3.5% higher than 12 months earlier.
Interest rate rises pushing up mortgage repayments was the main issue putting off prospective purchases for 15% of first-time buyers in August, but it was the challenge of getting together a deposit that remained the biggest obstacle to home ownership for prospective buyers, with 44% of the tenants polled reporting that saving a deposit was the key factor preventing them from buying.