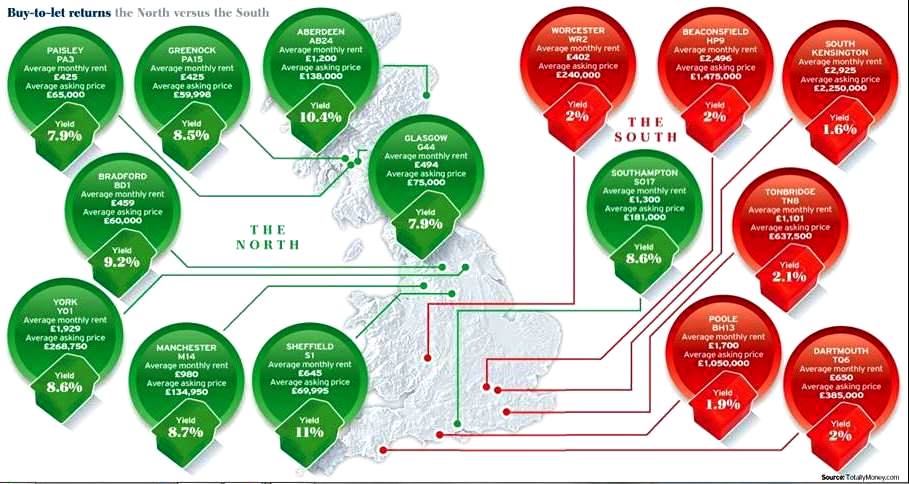 Buy-to-let investors are benefiting from record-high rents, strong house prices and cheap financing, but knowing where to buy is key to maximising returns – and the hot spots aren't as obvious as you might think.
Investment properties in northern cities and Scotland are outperforming by far those in the South and Wales when it comes to gross yields, or returns, according to research by comparison website TotallyMoney.com.
It found there was a clear geographical divide, with areas of Sheffield, Aberdeen and Manchester generating the strongest yields, while properties in parts of London, Kent and Hertfordshire were returning well below the national average.
Gross yields, which average 4.2pc across Britain, were calculated by dividing the typical annual rent by the typical asking price. These were taken from Home.co.uk, a database of properties for sale and rent across the country. Gross yields do not take account of tax, mortgage repayments and maintenance costs.
While landlords in London and the South East can command some of the highest rents, property prices are far higher there than anywhere else, eating into yields.
House prices
Prices have risen steadily across the UK over the past 12 months, although property prices in London and the South East have surged ahead of other regions.
According to the latest official figures from the Land Registry, the average home in England and Wales cost £175,653 in July, 7.2pc higher than at the same time last year.
This compared with growth of 19.3pc in London, where the average price rose to £457,072.
While the pace of growth has slowed in recent months, experts expect further sharp increases over the next three years.
Property market specialists surveyed by Reuters predicted a rise of 9pc nationwide for 2014, followed by 6pc next year and 4pc in 2016.
Prices in London were expected to climb even more quickly, by 12pc this year, 6pc next year and 5pc in 2016. For more on which parts of London offer capital growth potential, see today's Property.
While high house prices tend to erode buy-to-let returns, the potential for capital growth is also an important factor to consider when choosing where to invest.
Rents
Average monthly rents across England and Wales rose to a record high of £761 in August, 2.4pc higher than at the same time last year, according to the authoritative LSL Property Services' buy-to-let index. This uses data from LSL's nationwide network of lettings agencies, which includes Your Move and Reeds Rains.
Average rents in seven out of 10 regions of England and Wales were higher than a year ago.
The South West recorded the strongest year-on-year rise, by 3.5pc to £651, followed by the South East, 3.4pc higher at £788. In London, rents rose by 3pc in the year to £1,160.
Rents in Wales, the West Midlands and the North East were lower typically than a year ago. LSL said average monthly rents across Scotland, which stand at £534, were 2.7pc higher in July than a year ago.
More: Buy-to-let: the 10 postcodes to avoid
Mortgages
Lenders have recently launched a flurry of cheap buy-to-let mortgage deals thanks to market expectations that an interest rate rise is some way off.
Nationwide's buy-to-let arm, The Mortgage Works, this week cut its two-year tracker rate to 2.39pc for borrowers with a 40pc deposit. The loan comes with a £1,995 fee.
Leeds Building Society, Virgin Money, Accord and Santander have also cut their buy-to-let fixed mortgage rates in recent weeks.
While rates are falling, the fees on buy‑to-let loans are far higher than those on owner‑occupier deals.
There is a danger that as a rate rise looms, recent buy-to-let investors could see their costs outweigh their gains.
Research conducted by Telegraph Money shows that buy-to-let profits could dry up by 2017, although for now cheap fixed‑rate landlord mortgages remain readily available.
Alongside this, campaigners have warned that rent rises are unsustainable, further dampening investment prospects.
The North
Northern cities and Scotland are producing the best returns for property investors, far outstripping yields in the South.
In Sheffield, where the average property costs just under £70,000 and the average monthly rent is £645, landlords are reaping gross gains of more than 11pc.
This is the highest in Britain and well above the nationwide average of 4.2pc.
In fact nine of the top 10 postcodes for buy-to-let yields are in the North and Scotland.
Two unexpected hot spots include Bradford and Greenock, Renfrewshire. While there are no big universities to create demand for student lets, there is a good balance between the cost of properties and the rental income they generate.
The South
Investment properties here are lagging behind the north. Nine of the 10 lowest-yielding postcodes are in Greater London and the South East, thanks to soaring prices.
Not all properties in London produce below-par returns, however. Of the London postcodes that produce yields above the national average, Plaistow tops the list with gross yields of 5.8pc.
East Ham, Edmonton, Deptford and Bow all produce gross returns over 5pc.
Southampton was the only southern city that made it into the 10 top-yielding postcodes. Properties in SO17 offer average gross returns of 8.6pc.
nicole.blackmore@telegraph.co.uk