St Albans has Britain's fastest growing property prices
10-01-2014
Average house now costs £480,000 as prices in historic market town near London soar by 24% in the past year

Rupert Jones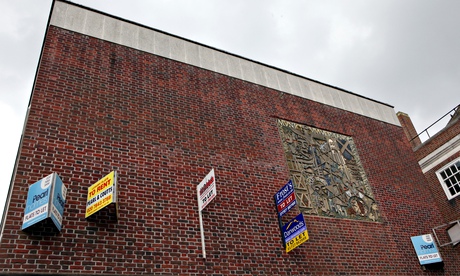 St Albans estate agents have seen house prices rise by 24% in the last year. Photograph: Graham Turner for the Guardian

The affluent commuter town of St Albans is the location boasting Britain's strongest house price growth over the past year, according to the Nationwide. The typical cost of a home in the historic Hertfordshire market town is now £479,000 after prices soared by 24% in 12 months, the UK's largest building society said.
That puts St Albans at the top of the table of "best performing" regional towns and cities, ahead of London, where prices are up by 21% or 22% on a year ago, depending on which Nationwide measure is used.
However, several individual London boroughs have seen annual price growth way in excess of those figures. "Camden saw the strongest growth, with a remarkable 42% year-on-year increase in average prices," the society said. A typical home there now costs £884,103 – a price-tag eclipsed only by Westminster, where the average figure is now £984,075 (two traditionally expensive boroughs, Kensington and Chelsea, and the City of London, are excluded from Nationwide's index due to "low sample size").
The cheapest borough in London is Barking and Dagenham, where the average property costs £239,348.
Further afield, Belfast and Cambridge also featured in the table after each notching up annual price growth of 21%. In fifth place was Reading with an 18% increase.
Nationwide said Newcastle was the "worst performing city", with average prices up 4% over the year to £182,506. Coventry and Leicester were close behind, with the annual increases put at 5% and 6% respectively. In Greater Manchester, property values are, typically, 11% higher than a year ago, though the figure for the city of Manchester was lower, at 7%.
Some areas saw smaller increases. Property values are up by just 3% in Cheltenham in Gloucestershire, while in north Devon, which includes Barnstaple and Ilfracombe, prices have not risen at all over the past year.