UK house price growth rate slowing, Halifax says
10-09-2014
UK's biggest mortgage lender says price of average property rose to £187,188 last month, up just over £1,000 from August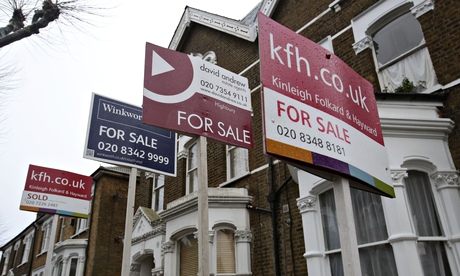 Lisa Bachelor

House prices
The house price growth rate is growing more slowly, Halifax says. Photograph: Yui Mok/PA

The annual house price growth rate has peaked at 10% and will now continue to grow at a considerably slower pace, Halifax said after reporting a modest 0.6% rise in prices for September.
The price of the average property rose to £187,188 last month, up just over £1,000 from August, said the country's biggest mortgage lender.
House prices in the three months to September were 2.7% higher than in the preceding three months, but this was the second successive decline in the quarterly rate. Annually, prices were 9.6% higher in the three months to September than in the same three months last year; similar to last month (9.7%) and below July's 10.2%, said the Halifax.
The latest findings from the country's biggest mortgage lender show that annual house price inflation "may have peaked at 10%", said its chief economist Martin Ellis. "The recent rapid rise in house prices in some parts of the UK, earnings growth that remains below consumer price inflation and the possibility of an interest rate rise over the coming months, appear to have tempered housing demand," he said.
"A moderation in growth looks likely during the remainder of 2014 and into next year as supply and demand become increasingly better balanced."
Halifax's September figure demonstrates, not for the first time, the volatility of monthly house price assessments. While prices were up by 0.6% month-on-month in September, according to the lender, this followed no movement in August after an increase of 1.2% month-on-month in July and a dip of 0.4% in June.
Rival lender Nationwide reported a fall in house prices of 0.2% in September, the first decrease in 17 months. This followed three months of gains reported by the Nationwide. It puts the average property price at £188.374.
"It is best to take an overview of the various surveys," said Howard Archer, chief economist at Global Insight. "Most house price indicators are currently indicating some moderation in growth. With housing market activity off its early-2014 highs, we believe house prices are likely to generally rise at a more retrained restrained rate over the coming months."
He said that a number of factors including the high prices of property compared to earnings and the recent tightening of lending criteria that make it more difficult to get a mortgage will continue to constrain the housing market.
However, he said that house prices were continuing on an upward trajectory because of support coming from a relatively strong economy with high and rising employment and elevated consumer confidence as two of the drivers.
In further news for homeowners and buyers, there is potentially positive news on mortgages, according to a Bank of England report. Recent weeks have seen a flurry of price cuts and launches by lenders, including offers of iPads and council tax payments – and this is set to continue as banks and building societies release the brakes on some of their lending and up their competition for a bigger market share.