UK house prices expected to fall by 0.8% in 2015
10-14-2014
Experts say market will avoid a crash but needs to readjust after price rises of 2014
Julia Kollewe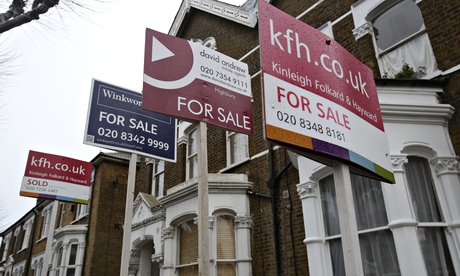 House prices are expected to dip in 2015. Photograph: Yui Mok/PA

Britain's housing market has reached a turning point with price growth expected to turn negative next year – but the market will avoid a crash, according to the latest forecasts.
Average house prices across the UK will dip by 0.8% in 2015, after growing by an estimated 7.8% this year, the Centre for Economics and Business Research (CEBR) predicted on Monday.
Inquiries from new buyers are already declining and properties are staying on the market for longer before they sell, leading to price declines in some parts of the UK. Affordability has become a real issue in the more expensive areas, such as London, with buyers starting to balk at high prices, the CEBR says.
"Price falls next year will be modest and we shouldn't be too worried about this – we are not anticipating a crash. The market is adjusting after getting ahead of itself at the start of 2014," said Scott Corfe, head of macroeconomics at CEBR and the main author of the report.
The new forecasts are being published amid other signs that the housing market is cooling.
Nationwide, the UK's biggest building society, reported the first drop in house prices in 17 months in September, taking the average price tag to £188,374 while mortgage approvals for house purchases fell for the second month running in August, according to Bank of England figures.
New rules on the way mortgage customers must be assessed – known as mortgage market review – which came into effect in April are also being cited as a possible factor.
"Tougher mortgage eligibility criteria, high deposit requirements and concerns about future rate rises are starting to take steam out of the UK housing market," said Corfe.
The Bank of England governor, Mark Carney, has signalled that the first rise in interest rates will come by the spring. While policymakers have indicated that rates will go up from their current record low in "baby steps", a rate increase after years of ultra-low borrowing costs is still likely to startle any would-be buyers and could lead many to hold off from making a purchase.