A survey has revealed that nearly a quarter of all tenants in the private rented sector believe that's never be able to afford their own home and therefore will be renting forever.
According to a YouGov poll, commissioned by estate agents Knight Frank, 24% of the 3,500 private tenant respondents say they expect to always be renting while a further 15% saying they would be in the sector for a further five or more years.
Around a quarter hopes though to expect to leave the rental sector within the next two years.
"Our survey shows that the majority of renters do not view the private rental sector as just a 'short-term' move. Less than a quarter of tenants expect to leave the sector within two years," says Grainne Gilmore, Head of UK Residential Research at Knight Frank.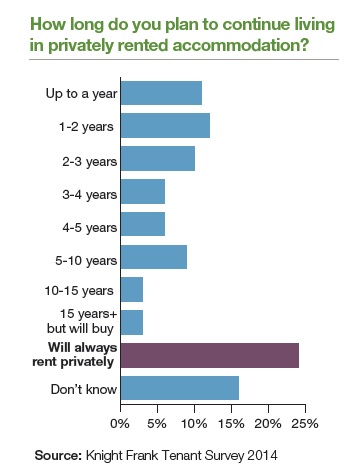 "The dynamics of the housing market, where supply has failed to keep up with demand which in turn has played a role in pushing up house prices, has also put home ownership beyond the reach of many young workers, especially in key employment hubs.
"This, coupled with an increasing mobile and flexible workforce, has led to rising demand for privately rented property."
The survey shows that on average, the maximum tenants will pay on rent is 40% of gross income, although one in ten Londoners will pay more than 50%.
The average UK house price in August 2014 was at £274,000 (€345,052, $437,283), according to the Office for National Statistics.
This equates to the average property price of £285,000 in England, £172,000 in Wales, £143,000 in Northern Ireland and £200,000 in Scotland.
According to recent data from LSL Property Services' Buy-to-Let Index, Renting a property across England and Wales has now hit an all-time high as average residential rents reached £768 per month.
However, the YouGov survey also shows that while some are finding the costs of buying a house difficult, around a third of tenants state that they are living in the private rented sector do so because it suits their lifestyle and/or they don't want a mortgage.
This falls in line with some other recent Experian data that showed that 62% of the millions of young people living at home claim to be content with their living arrangements.