Should we buy our first home or carry on renting?
11-03-2014
We have a fairly small deposit of £15,000 but prices are going up quickly in the centre of Manchester, where we want to buy

Virginia Wallis
www.theguardian.com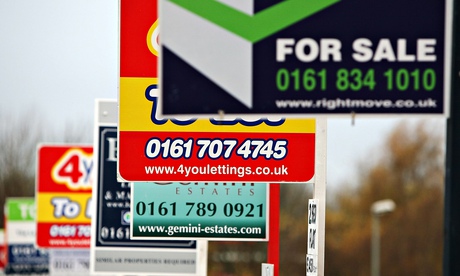 Buying a house in Manchester is becoming increasingly expensive. Photograph: Christopher Furlong/Getty Images

Q My girlfriend and I are debating buying our first home in Manchester, but are unsure when to take the plunge. At the moment we are renting a flat for £810 a month. My girlfriend is a recruitment consultant and I am a PhD student; we are both 23.
We have a fairly small deposit of £15,000 – the obvious response here is to wait until we have a larger deposit and can borrow less and get a better mortgage deal. However, property prices are going up quickly in the city centre, where we are looking to buy, and we are worried that any extra savings we put away (we should be able to save £6,000 to £7,000 a year) will be negated by the rising prices. We wondered whether it might be better to buy a property sooner rather than later – even with our small deposit (most of the properties we like are around £150,000) – and then to overpay on the mortgage, rather than wait to save for a bigger deposit and continue paying rent?
The reason I mentioned being a PhD student is that although I would like to stay in the north west, jobs in academia are few and far between and we may have to move in three or four years. While I imagine the value of a flat in the city centre would be more likely to appreciate in value than, say, a terraced house in Salford, borrowing at a higher rate will presumably mean we will have less capital in the property after four years. Would you recommend continuing renting and saving – even if prices will diminish the value of the deposit, or buying soon and overpaying on the repayments? WH
A Purely on the basis of monthly cost, I would say buy now rather than carry on renting. Even with the 90% mortgage that you would need to buy a property costing £150,000 with a deposit of £15,000, your monthly mortgage repayments would be around £120 less than the monthly rent of £810 that you are currently paying. That's assuming that you were able to secure a 90% repayment mortgage at a variable interest rate of 3.65% over 25 years with monthly payments of just under £687 – as currently available from the Coventry Building Society.
But you are correct in saying that you could get a better deal with a bigger deposit. If you were able to cut the size of your mortgage to £127,500 (which is 85% of the flat's value) and so increase your deposit to £22,500 (assuming no change in its price), Coventry BS would charge only 2.65% in interest and so bring your monthly mortgage payment down to £582. With the 85% mortgage and a bigger deposit, after four years, you would owe about £108,000 whereas you still owe around £116,000 after four years with a 90% loan. However the difference in the amount of capital repaid is only about £1,000.
You are right in saying that you run the risk of property prices rising during the time you take to save the extra deposit amount and possibly putting you back in the position of having to take out a 90% mortgage. However, that would happen if a property worth £150,000 now were to rise to £225,000 which is an increase of 50%, which doesn't seem likely. So maybe waiting before you buy is a risk worth taking. It may also be your only option as you are unlikely to find a lender willing to take your PhD stipend into account when assessing how much you and your girlfriend can borrow.
Muddled about mortgages? Concerned about conveyancing? Email your homebuying and borrowing worries to Virginia Wallis at virginia.wallis.freelance@theguardian.com