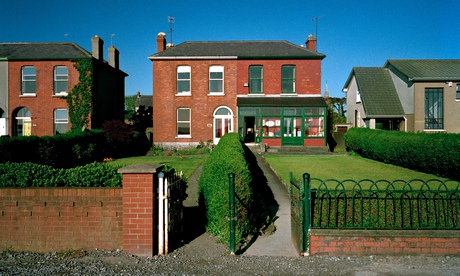 Six years after the onset of a crash that wiped more than 50% from its property market values, Ireland has roared back to be named the country with the fastest growing house prices in the world.
With average prices up 15% in a year, the country is top of an influential global house price index, ahead of Dubai and the UK.
Estate agent Knight Frank, which compiles the index, said Ireland had enjoyed a remarkable turnaround in fortunes over the past 12 months. As recently as summer 2012, it was ranked 54th out of 55 countries surveyed, when house prices were falling by almost 10% a year following the damage wreaked by Ireland's economic crash of 2008.
The firm's latest index puts the UK in fourth place, with prices up 10.5% in the year to September, making it one of only six countries to achieve double-digit price growth. At the bottom of the table is Cyprus, where prices were down more than 9% over the same period.
Ireland's strong performance is largely down to the strength of the property market in Dublin, especially in desirable neighbourhoods such as Ballsbridge and Ranelagh. Over the past year the market has seen the return of bidding wars, with properties frequently selling for as much as 20% above the asking price.
Ireland is set to be the fastest growing eurozone economy this year, with Brussels predicting it will achieve 4.6% growth, although the latest data will exacerbate fears of a new house price bubble.
Knight Frank said that house prices in Ireland were still 39% below their pre-crisis peak of 2007 despite the 15% surge. Nevertheless, it said the country had pulled off a remarkable comeback, considering that it had "languished at the foot of the table" for most of the period from 2009 to 2012.
Turkey is in second place in the table, up 14%, with Dubai third, up 12.5%. Australia is ninth after a 9.1% rise and Hong Kong is 20th place, after rising by 6.3%. China only manage 42nd place as property prices were down 1.2% year-on-year, with 58 of the 70 Chinese cities tracked recording a decline.
Knight Frank said Ireland was not the only country to enjoy a bounceback over the past year. The UK has also seen an upturn; in the summer of 2012 the UK ranked a lowly 37th in the index.
The index was created in 2006 and is compiled using official government statistics or central bank data where available to allow investors and developers to compare the performance of mainstream residential markets across the world.
In the United States the price of a typical family home was up by 4.8% over the 12 months, although some US cities managed to perform a lot better. In Miami prices were up 10.3% year-on-year.
Kate Everett-Allen at Knight Frank's international residential research arm said: "Fewer countries are reaching the heights of double-digit price growth, but it's not all bad news. No country has recorded an annual fall in house prices in excess of 10% for three consecutive quarters, suggesting a slight convergence in the performance of the 54 housing markets tracked."
Changes in prices over 12 months:
1 Ireland 15.0%
2 Turkey* 12.5%
3 Dubai, UAE 12.5%
4 UK 10.5%
5 Estonia 10.0%
50 Romania* -3.8%
51 Italy* -4.6%
52 Greece -7.7%
53 Slovenia* -8.8%
54 Cyprus* -9.2%
* Latest data available
Source: Knight Frank