Young Londoners have revealed that they would rather rent a tiny studio flat rather than a large property which was not so well located.
According Knight Frank, 54% of 18 to 24 year olds said they would be happy to live in a studio, which is a flat contained within one room with an adjoining bathroom, in order to live in a central, more desirable area.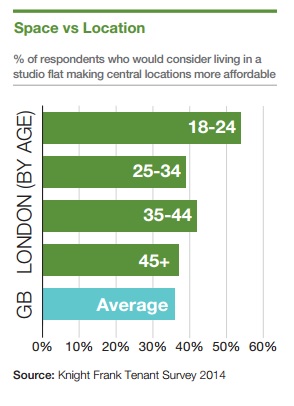 Some 45% of 18-24 year olds in London said they would consider living in a "microflat" - a small studio flat around 300 sq ft in size - if that was in the "perfect" location.
Some 37% of 35-44 year olds also said that they would consider going for a small studio flat in a central location.
"In terms of location vs affordability, a significantly higher proportion of Londoners, especially younger tenants, are prepared to live in smaller types of accommodation to ensure they are in a good location at an affordable price," said Grainne Gilmore, head of UK residential research at Knight Frank.