House prices rise just 0.1% as inflation cools across UK
12-16-2014
Average prices increase to £271,000, which is slowest growth since March, according to Office for National Statistics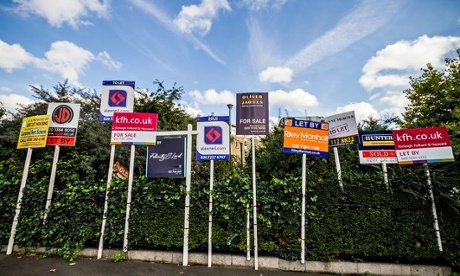 House prices have experienced a slight slowdown in recent months, according to property experts.  Photograph: Guy Corbishley

Angela Monaghan 

UK house prices rose at their slowest pace for seven months in October, in the latest sign of a modestly cooling housing market.
Average house prices increased by just 0.1% over the month to £271,000, the slowest growth since March when prices fell by 0.4%, according to the Office for National Statistics.
Annual house price inflation across the country cooled to 10.4% from a seven-year high of 12.1% in September.
Brian Murphy, head of lending at Mortgage Advice Bureau, said: "House prices have experienced a slight slowdown in recent months, with seasonal variations as well as tighter mortgage regulation reining in property prices. However, average prices are still well up on last year, with the UK as a whole experiencing double-digit growth."
Excluding London and the south-east, where house prices are rising at the fastest rates, prices grew by 6.7% in the year to October, the ONS said.
London house prices soared by 17.2% in the 12 months to October, although this was a slowdown compared with 18.8% growth in the year to September.
It brought the average house price in the capital in October to £504,000, while in the north-east the average was £152,000, the lowest of any English region. The average across the UK was £271,000 but it was higher in the south-east and the east.
The average price of properties bought by first-time buyers was £208,000 in October, up 12% over the year, slower than September's 13.3% annual rate of growth.
Campbell Robb, chief executive at Shelter, the housing and homeless charity, said persistently high house prices were still out of reach for many people.
He added: "This is yet another blow to the millions of young people and families desperate to build a stable future in a home of their own. With the average house in England now costing more than 10 times the average wage, millions of people are finding themselves stuck in the rent trap, with little hope of ever saving for a deposit."
In the autumn statement on 3 December, the chancellor announced changes to stamp duty, which he claimed would cut the tax for 98% of homebuyers.
Richard Snook, senior economist at accountancy firm PwC, said the changes were likely to provide a modest boost to house prices and the number of sales.
For existing owners moving house, the average cost of a home was £312,000, 9.7% higher than a year earlier, down from 11.5% in September.