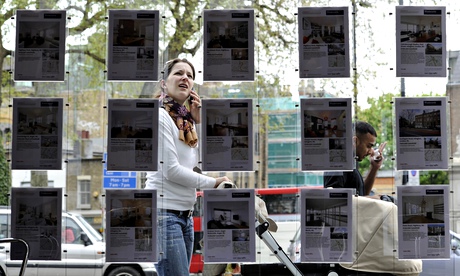 Property investors who leave homes empty just to make money from property price rises could be fined or even jailed under proposals made by a London council.
Islington plans to force owners of newly built homes to prove they are occupied. If homes are left empty for longer than three months owners will face high court injunctions which if breached, could bring fines, repossession and, in the worst cases, jail for owners, the council said.
The drastic action has been proposed as the north London borough revealed that 30% of a representative sample of 2,000 homes built in the last six years have nobody on the electoral register and, even when students and foreign tenants are discounted, close to a quarter of homes in five of the newest residential developments appear to be empty.
Owners will have to prove they are not "buy-to-leave" investors by showing up-to-date utility and council tax bills, evidence of deliveries, registration documents for health services, schools and social services, and even prove the homes are fully furnished.
"Our new proposals would make sure that all new homes in Islington are occupied – we want to send a message that 'buy-to-leave' is unacceptable," said Cllr James Murray, the council's executive member for housing.
The proposal was warmly welcomed by campaigners against empty homes but is likely to be fiercely opposed by property developers.
John Silvester, a former president of the Planning Officers Society, said such a use of the planning system was unprecedented and it might be challenged on the grounds that it seeks to curb established rights among property owners.
The boom in investment in homes is being felt across the capital. Research consultancy Molior has found that in developments of more than 20 units in London, over 70% of new-build sales in the £1,000-£1,500 per square foot range were to investors, and over 50% in the £700 to £1,000 per square foot range. It said some are "held as permanently available hotel suites" by the owners.
The draft measures will go out to consultation on Monday and represent the first time a council has tried to tackle buy-to-leave using planning powers. Under section 106 planning agreements set before properties are built, new homes would not be left unoccupied or unused for longer than three months, and would have to be occupied for at least 14 days in any three-month period. Developers selling the new homes would have to make clear in marketing brochures and advertising that the obligation would fall to the buyer.
Owners would have to "use and occupy the individual dwellings as a dwelling house or to ensure such use and occupation". Generation Rent, the campaign group for more affordable rented homes, welcomed the initiative as giving first-time buyers a better chance of bidding successfully for new homes.
"To people used to property as a speculative asset, this might seem harsh, but if you look at housing as something for people to live in there is no reason not to treat buy-to-leave punitively," said Seb Klier, Generation Rent's policy and campaigns manager. "If we are really serious about helping first-time buyers we have to take punitive action against those who see housing as an investment asset only."
Islington is the most densely populated local authority area in the UK, according to the 2011 census. Under the London plan, the borough is required to ensure 12,641 homes are built between 2015 and 2025, and with very little land available, the council wants to ensure all homes contribute to meeting housing need.
According to council research, as many as a third or more of homes in some new developments are potentially vacant. Of almost 2,000 units built in blocks in the borough since 2008, 30% have no registered voters and the percentage rises considerably when social housing is filtered out and market housing analysed. Of the 58 private apartments in the 1 Lambs Passage development, 71% had no voter registered, while 65% of the 106 in Worcester Point had no one registered.
Even taking into account apartments where students are registered for council tax exemption, or the leaseholder appears to have let the property to a tenant who may not be eligible to vote, and cases where the flat is being operated as a serviced apartment, there are still high levels of unexplained non-registration. Forty-five per cent of the 127 market units in the Bezier building in the borough fall into that category, as do 33% in the Worcester Point building.
This article was amended on 12 December 2014 to clarify a reference to 2,000 homes built in Islington in the past six years. That was a representative sample of a total figure of more than 10,000.