House prices in England and Wales have climbed to a new record high after overtaking the previous peak reached at the height of the property boom, according to official data.

The Land Registry said the average home saw more than 1% added to its value in June 2015 alone, and said 21 London boroughs had seen annual price growth of at least 10%.

The figures prompted housing charity Shelter to warn that the government's election pledges on home ownership were "on the verge of becoming an empty promise".

The Land Registry – whose data is viewed by many as the most comprehensive and accurate – said the typical price of a home reached £181,619 in June. This is the highest figure in the 20 years that the department has been compiling data, and means house prices have now surpassed pre-crash levels. At the peak of the property boom in November 2007, the average selling price for a house in England and Wales was £180,983.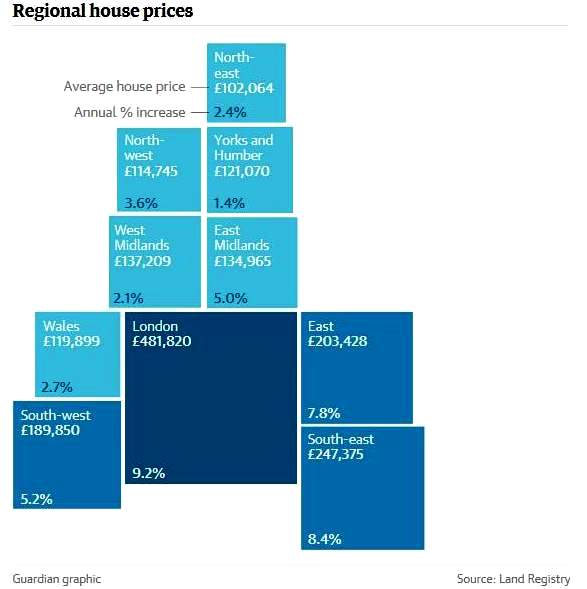 However, the headline figures mask wide regional variations. While the average home has increased in value by 5.4% over the past year, the typical London property has notched up a 9.2% rise to reach £481,820.

Even within the capital, the 33 London boroughs have experienced varying fortunes. In Newham, prices are up 16% over the year, with Hillingdon and Enfield close behind at 15.2% and 15.1% respectively. However, wealthy individuals who decided to buy in Kensington and Chelsea a year ago, purely as an investment, may be disappointed with their return so far: prices there fell slightly last month, and annual price growth is currently running at just 0.7%.
Around the country, locations that have seen prices increase by 10% or more over the past year include Merthyr Tydfil (15%), Reading (14%), Slough (12.9%), and Brighton and Hove (11.1%). Average property values in Manchester are up 3.1% over the year to give a typical price of £98,550 – though they have jumped by 9.1% in Trafford, a borough of Greater Manchester, to reach £204,274.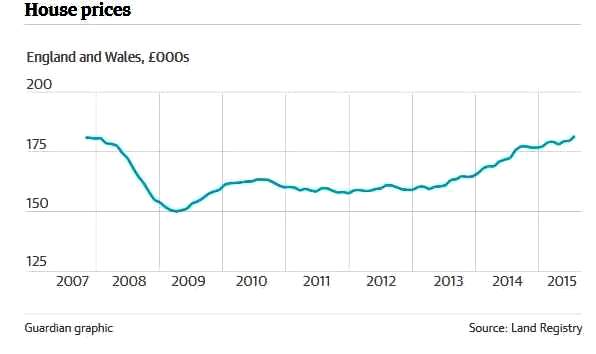 Towns or cities that have seen prices fall over the last year include Bolton (down 1.6%), Bradford (1.1%) and Doncaster (0.6%).

The "prime" property market has taken a hit, with pre-election talk of a mansion tax and other measures seemingly putting off some would-be buyers: separate Land Registry data reveals the number of properties sold in England and Wales for more than £1m has slumped by 22% in a year.

Responding to the figures, Campbell Robb, Shelter's chief executive, said: "When house prices soar by this much in a single year thanks to our housing shortage, it's clear that for millions of people across the country, a home of your own is fast becoming a pipe dream."

He added: "For people stuck in their childhood bedrooms into their 30s, or families having to put up with expensive and insecure renting, the housing market isn't working for ordinary people. The prime minister's election placard promising 'a home of your own' is on the verge of becoming an empty promise. The only way for the government to turn this crisis around is to urgently invest in the genuinely affordable homes we need."

Guy Meacock, head of the London office of buying agency Prime Purchase, said his firm was seeing more international buyers than it did earlier in the year. "Expats here on holiday visiting family, for example, who are taking the opportunity to get in front of sellers and see what is available … Selling agents have had a very difficult start to the year, but the market is building momentum and it could be a busier autumn."