UK to 'skirt recession' as house prices drop and joblessness climbs
07-18-2016
The EY ITEM Club said the political stability brought by Ms May and a new cabinet would boost confidence, though it warned that the decision to leave the EU would mark the end of a five year jobs boom and push down house prices Credit: Bloomberg
By Szu Ping Chan

Theresa May's rapid rise to prime minister will help the UK economy to skirt a recession following the Brexit vote, even as growth slows to the weakest pace since the financial crisis.
The EY ITEM Club said the political stability brought by Ms May and a new cabinet would boost confidence, though it warned that the decision to leave the EU would mark the end of a five year jobs boom and push down house prices.
While the "shock" of the referendum result is expected to trigger a "severe loss of momentum" in the second half of 2016, Peter Spencer, chief economic adviser to the ITEM Club, said avoiding a drawn-out Tory leadership contest had prompted a "sea-change" in the attitude of business leaders.
Annual GDP growthEY downgraded its UK growth forecasts for the next five years
Source: EY ITEM ClubGrowth forecast in AprilGrowth forecast

"The situation is a lot better now than this time last week when it looked like we would have no prime minister until September," he said.
"There is a sea change in the attitude of almost everybody I meet now because we have clarity on the political situation."
The economy is expected to expand by 1.9pc this year and just 0.4pc in 2017. This represents the weakest growth since 2009, when the economy shrank by 4.3pc.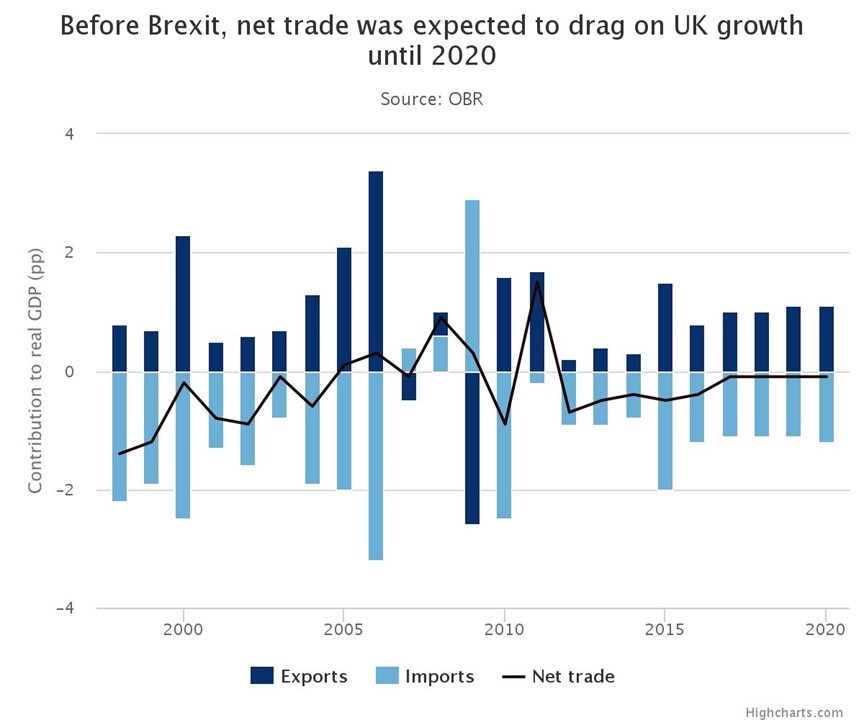 In April, EY projected growth of 2.3pc and 2.6pc in 2016 and 2017. The 2018 growth forecast was also lowered to 1.4pc, from 2.4pc in 2018.
House prices are expected to drop 4pc next year, knocking almost £9,000 off the value of the average home.
The ITEM Club described exports as a "silver lining", with the weaker pound expected to boost competitiveness. Net trade is forecast to add to growth for the first time since 2011 this year, as exports rise by 3.2pc.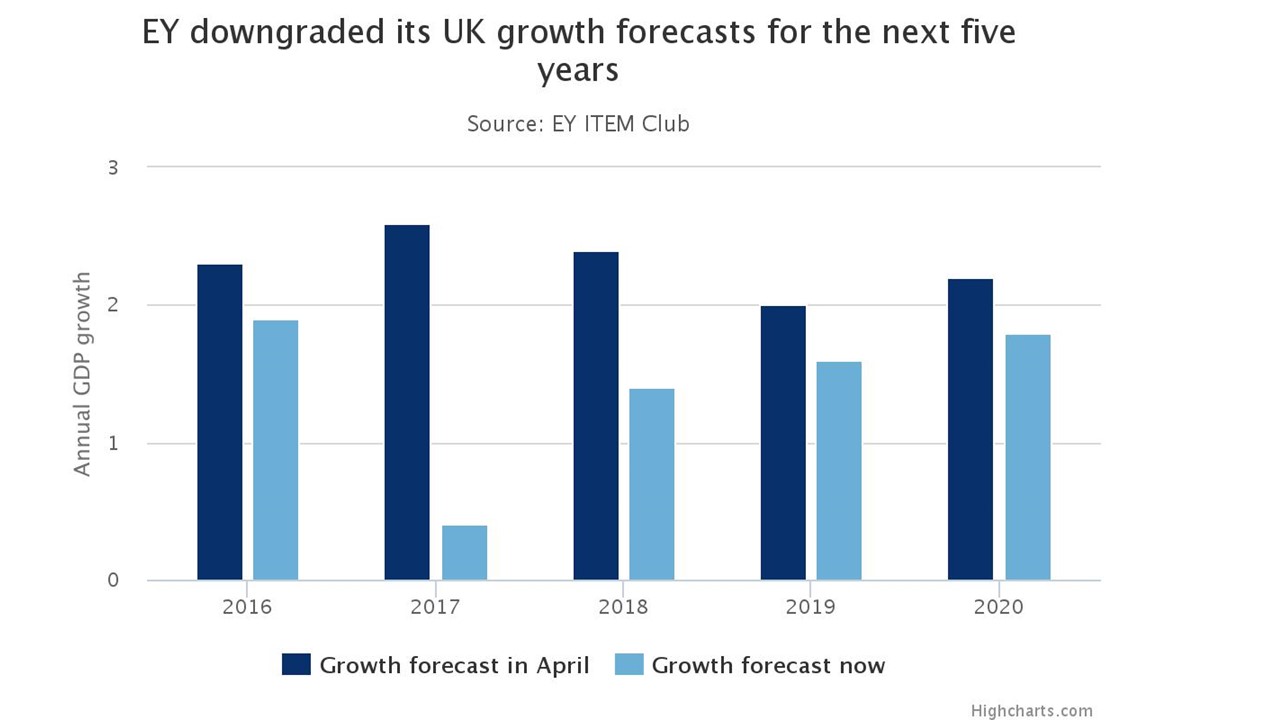 Contribution to real GDP (pp)Before Brexit, net trade was expected to drag on UK growth until 2020
Source: OBR Exports Imports Net trade
Highcharts.com

The Brexit vote is forecast to hit the jobs market until at least the end of the decade, with a "hiatus on investment" triggered by economic uncertainty "extending to recruitment".
Unemployment, currently at its lowest in a decade, at 5pc, is expected to rise to 7.1pc by the end of 2019 - which would be the highest rate since 2013.
Employment, which has climbed by more than 2m since 2011, is expected to fall 0.2pc in 2017 and 0.3pc in 2018. Weaker growth is expected to put a hole in the public finances.
The Government is now expected to borrow around £34bn in 2019-20, compared with official projections of a £10.1bn surplus before the referendum.
Steve Varley, EY's UK chairman, urged policymakers not to "lose sight" of Britain's strengths as it forged new trading relationships.
Borrowing to invest could also help to boost growth, EY said.