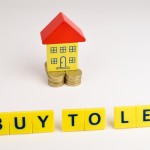 There was a surge in the number of rental properties on the market following the rush to beat the stamp duty increase in April, new data shows.
According to property website Rightmove, there were 8% more newly-marketed rental properties in the second quarter compared to the same period last year.
However, the boost to supply failed to stop rents rising 2.8% over the quarter outside of London.
The East of England saw the highest annual increase of 5%, while London – where rents are typically higher than anywhere else in the UK – recorded a fall in average rents of 0.6%.
London saw the biggest increase in supply this quarter (+22%) compared to any other region, resulting in a fall in average asking rents by 1.1% to just under £2,000 per month.
In the run-up to April's stamp duty hike there was a boom in borrowing as buyers brought forward transactions to beat the deadline.
The 3% stamp duty increase on second homes, which came into effect on 1 April, is part of the government's attempt to curb the buy-to-let market and free up property for first-time buyers. The basic rate of tax relief landlords can claim on properties is also set to fall to 20% from April 2017.
Rightmove's head of lettings Sam Mitchell said: "The big spike in March transactions resulting from a large number of investors beating the more punitive stamp duty tax deadline has created a rental supply boost which is good news for prospective tenants actively looking for a new place to live.
"Now that the stamp duty changes have come in this boost may be short-lived, as landlords consider whether or not to make further purchases. Our own research among landlords shows that just under a third of them are concerned that the stamp duty changes, plus the forthcoming tax relief changes, will potentially wipe out their profits.
"Once the tax relief changes start to be phased in from next year new buy-to-let activity could slow further. However rental demand is still outstripping supply in many areas of the country so we may see a shift by investors to look in areas that offer better yields for long-term property investments."
The top five places with highest demand from prospective tenants include three in Greater Manchester – Ashton-Under-Lyne, Stalybridge and Oldham – where average asking rents for two-bedroom properties are around £520 per month and you can buy a two-bed home for around £100,000. The rest of the top five is made up of Wickford in Essex (£940) and Tamworth in Staffordshire (£682).
Mitchell said: "Whilst it's too early to speculate or predict any long term impact of Brexit for the rental market, these latest figures show that it's business as usual for tenants looking for a place to rent.
"Naturally we saw a dip in demand the three days after the referendum result, but that soon returned to usual levels of searching. If confidence in buying houses does falter it could lead to more people looking to rent, perhaps in the short-term, and that would mean that rents could rise further."