UK house prices surged in the month before Brexit vote, figures show
07-19-2016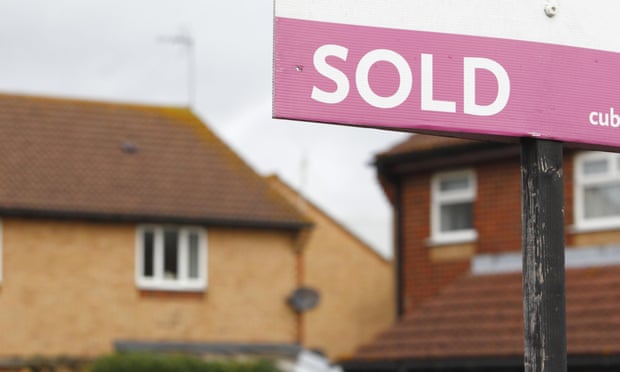 May data masks regional variations and current property values could already be declining, expert says
House price growth

Average house prices increased by £2,400 in May compared to April, but it is likely they've already started falling. Photograph: Chris Ison/PA

Patrick Collinson

House prices surged by 1.1% in May, according to official , with the typical home jumping in value by £2,400 over the month.
The Office for National Statistics figures were taken before the Brexit vote, and based on mortgage completions, so are regarded as a lagging indicator for the economy.
Andrew Bridges, managing director of estate agents Stirling Ackroyd, said: "Since these figures are for May it's likely that house prices have already fallen to some extent in parts of the country. British property buyers are weathering a storm of uncertainty, and the hatches were battened down a little in the first week or two after the Brexit vote."

The May rise followed an increase of 0.8% in April and 0.9% in March. Prices rose fastest in Scotland, which saw a 2.8% jump in May alone.
The national figures mask huge regional variations. In the north-west, west Midlands, Yorkshire and Humberside and Northern Ireland, prices fell during May, while in London they rose by 1.5% and in the south-east by 1.8%.
The year-on-year increase was stable at 8.1%, with a low of 3.2% in north-east England and a high of 13.6% in London.

The average UK house price was £211,000 in May – £16,000 higher than in May 2015, and £2,400 higher than last month.

Housing charity Shelter said house prices and rents remained beyond the reach of most people on average wages, and called on new prime minister Theresa May to bring forward a new housebuilding programme.
Campbell Robb, chief executive of Shelter, said: "It's difficult to predict what will happen to house prices over the next few months, but one thing we know for sure is that we have a severe shortage of affordable homes, and this hasn't changed since the Brexit vote.

"Sky-high rents are leaving millions of people stuck in a rent trap with no hope of saving for a home of their own, and – as these figures show – even if they could scrape some money together, house prices are completely out of step with average wages in most of the country.
"The new prime minister and her government have a real chance to turn things around if they prioritise fixing the housing shortage and quickly get our country building homes that people on ordinary incomes can actually afford to buy or rent long-term. Not only will this help support our economy, it will give back hope to the millions of people crying out for a home they can call their own."