House price growth has fallen in recent months but is expected to start rising again by 2018, according to the latest three-year housing forecast by Countrywide.
London and the South will experience the biggest falls, with house price growth slowing to 3.5 per cent in 2016 from 10.8 per cent in 2015, according to the new report by the UK's largest estate and lettings agents group.
Prices are expected to fall further, to minus one per cent in 2017, but are tipped to recover by two per cent in 2018.
These findings are similar to those of the Centre for Economics and Business Research (CEBR). Senior Economist Nina Skerosays: "Although Brexit has certainly sent shockwaves, CEBR expects the housing market to slow down but not plummet."
The average asking price of a home in the capital is now £472,204, according to the latest ONS House Price Index.
Nationwide, house prices are still less than half the capital's average at £213,927 - and are also expected to be affected, albeit by not as much. 
Price growth in the North and the Midlands, for example, is set to fall by 0.5 per cent in 2016 and experience negative growth of -0.25 per cent in 2017, as uncertainty surrounding the EU impacts investment and labour markets.
However, prices in these regions are also expected to pick up by two per cent in 2018. And to put the 2017 figures into context - this means values returning to levels similar to those seen at the start of this year.
"Forecasts in the current environment are trickier than ever as the vote to leave the EU has thrown up many risks," says Fionnuala Earley, Co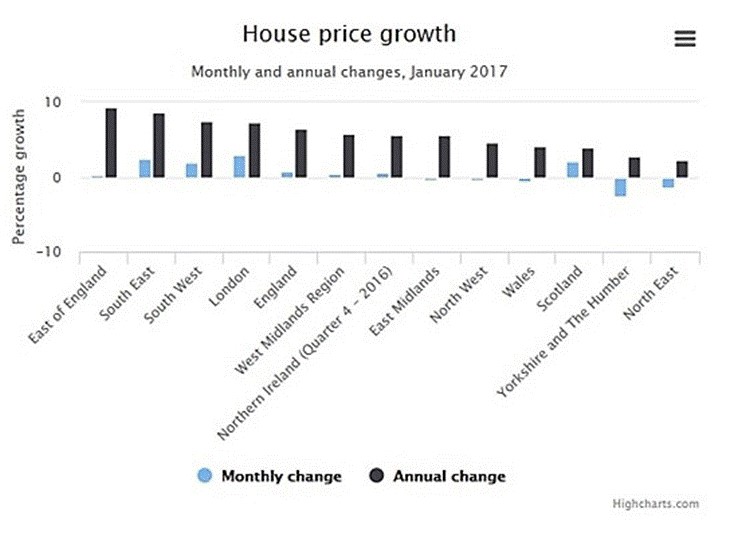 untrywide's chief economist.
"Our central view is that the economy will avoid a hard landing, which is good news for housing markets."
The biggest factors currently impacting the property market