The number of new mortgage approvals fell in July, suggesting a post-Brexit vote knock to the housing market.
New figures from the Bank of England this morning show that there were 60,912 approvals for house purchase in July, down sharply from the 64,152 in June.
The figures were also lower than the 61,900 City of London economists had expected.
Approvals have been on a declining trend since the beginning of the year, but the July approvals figure was the lowest since January 2015 and was down 12.4 per cent on the same month a year earlier.
Lowest since January 2015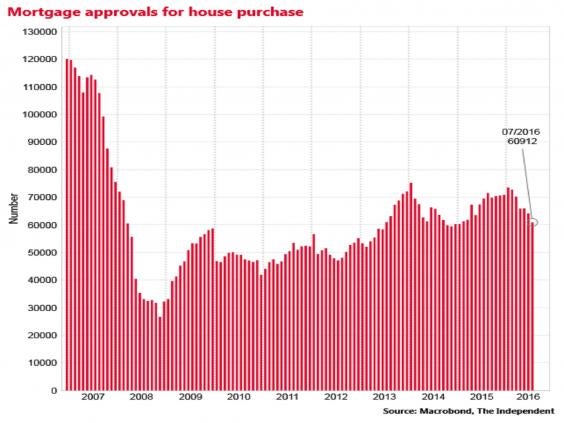 Before the financial crisis of 2007-09 banks were approving more than 100,000 new house purchase mortgages a month.
Analysts said the deepening slowdown could presage declines in house prices.
"July's marked slowdown in mortgage approvals fuels our belief that house prices could ease back by around three per cent over the latter months of 2016 and there could well be a further 5 per cent drop in 2017" said Howard Archer of IHS Global Insight.
6 ways Britain leaving the EU will affect you
1/6

More expensive foreign holidays

The first practical effect of a vote to Leave is that the pound will be worth less abroad, meaning foreign holidays will cost us more

nito100

2/6

No immediate change in immigration status

The Prime Minister will have to address other immediate concerns. He is likely to reassure nationals of other EU countries living in the UK that their status is unchanged. That is what the Leave campaign has said, so, even after the Brexit negotiations are complete, those who are already in the UK would be allowed to stay

Getty Images

3/6

Higher inflation

A lower pound means that imports would become more expensive. This is likely to mean the return of inflation – a phenomenon with which many of us are unfamiliar because prices have been stable for so long, rising at no more than about 2 per cent a year. The effect may probably not be particularly noticeable in the first few months. At first price rises would be confined to imported goods – food and clothes being the most obvious – but inflation has a tendency to spread and to gain its own momentum

AFP/Getty Images

4/6

Interest rates might rise

The trouble with inflation is that the Bank of England has a legal obligation to keep it as close to 2 per cent a year as possible. If a fall in the pound threatens to push prices up faster than this, the Bank will raise interest rates. This acts against inflation in three ways. First, it makes the pound more attractive, because deposits in pounds will earn higher interest. Second, it reduces demand by putting up the cost of borrowing, and especially by taking larger mortgage payments out of the economy. Third, it makes it more expensive for businesses to borrow to expand output

Getty Images

5/6

Did somebody say recession?

Mr Carney, the Treasury and a range of international economists have warned about this. Many Leave voters appear not to have believed them, or to think that they are exaggerating small, long-term effects. But there is no doubt that the Leave vote is a negative shock to the economy. This is because it changes expectations about the economy's future performance. Even though Britain is not actually be leaving the EU for at least two years, companies and investors will start to move money out of Britain, or to scale back plans for expansion, because they are less confident about what would happen after 2018

AFP/Getty Images

6/6

And we wouldn't even get our money back

All this will be happening while the Prime Minister, whoever he or she is, is negotiating the terms of our future access to the EU single market. In the meantime, our trade with the EU would be unaffected, except that companies elsewhere in the EU may be less interested in buying from us or selling to us, expecting tariff barriers to go up in two years' time. Whoever the Chancellor is, he or she may feel the need to bring in a new Budget

Getty Images
The latest survey from the Royal Institution of Chartered Surveyors earlier this month suggested UK house price growth was the lowest in three years in July
But the other major house price indexes since the 23 June vote have shown a mixed picture.
The annual rate of growth of Hometrack's index fell from 8.6 per cent to 8.1 per cent in July.
But Halifax's remained steady at 8.4 per cent, while Nationwide's strengthened slightly to 5.2 per cent.
Going down?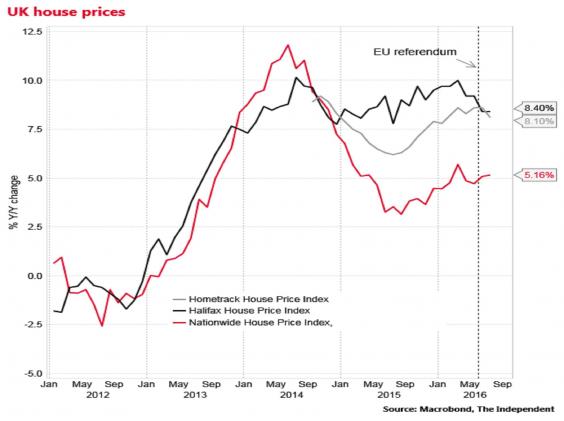 An analysis by the Treasury before the referendum suggested house prices could fall by between 10 per cent and 18 per cent in the event of a Brexit vote by 2018.
But given this forecast was relative to a counterfactual of continued strong growth in house prices this was consistent with a flatlining of average prices in nominal terms