Housing crisis 'driving younger and older generations apart'
09-19-2016

Soaring property prices are making more neighbourhoods inaccessible to the under 50s, report reveals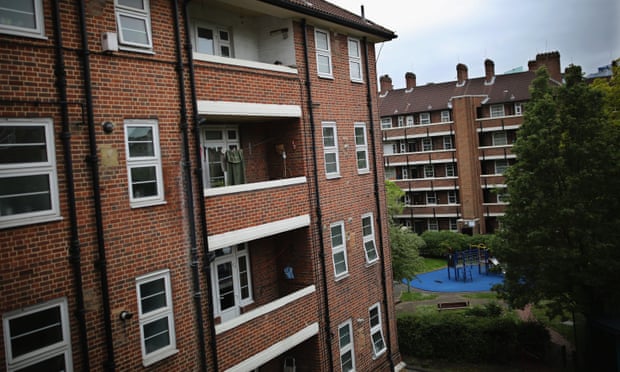 Flats in Wapping, east London. The number of homes available at 'social rent' prices has plummeted. Photograph: Dan Kitwood/Getty Images

Daniel Boffey Policy editor

Britain is becoming more segregated due to high house prices, a report reveals, as it emerged that the number of new "social rent" homes funded by the government fell to fewer than 10,000 last year.

Official figures show that 70% fewer social rent homes, where rents are capped, came on to the market in 2014-15 compared with five years earlier at the end of the Labour government. An additional 40,000 "affordable rent" properties also became available, but at up to 80% of the market rate – considerably higher than for social housing.

The consequence of escalating rents and the lack of discounted homes has been greater segregation in society, according to a new report from the Intergenerational Foundation (IF). The number of neighbourhoods in which half the population is aged over 50 has risen sevenfold – from 65 in 1991 to 485 in 2014.
Angus Hanton, IF co-founder, said: "Just 5% of the people living in the same neighbourhood as someone under 18 are over 65, compared with 15% in 1991. This is hugely damaging to intergenerational relations. It weakens the bonds between the generations and leads to a lack of understanding of, and empathy for, other generations.
"We believe that the housing crisis is driving this trend, with older generations enjoying either rural or leafier suburban living, while young people are concentrated in rental properties in the centre of towns and cities."
Analysis by the House of Commons library further suggests that the failure to keep up with the Labour government's social housing building programme over the past six years has added £380m to the housing benefits bill as people renting have been forced into more expensive housing association properties or into the hands of private landlords.
Advertisement
The focus during David Cameron's time in Downing Street was often on increasing home ownership rather than building homes available for those who would prefer discounted rents.

A lack of affordable homes is thought to be largely responsible for increases in rents that feed into higher social security costs. Government housing development expenditure fell from £11bn in 2009-10 to just £6bn in 2014-15. Expenditure on housing benefit grew from £20bn in the last year of the Labour government to £24.3bn in 2014-15 under the coalition.

John Healey, the housing minister in the last Labour administration, called on Theresa May to rethink the government's housing strategy. He said: "It's now clear that George Osborne's decision to slash housing investment was the opposite of a 'long-term economic plan' – saving in the short term only to pay in the longer term in higher housing benefit costs.

"It has also exacerbated the shortage of genuinely affordable homes. Theresa May must take this opportunity to break with six years of failure on housing and invest in genuinely affordable homes again. Building many more council and housing association homes isn't just good social policy, it's good fiscal sense too – saving money for the public purse in the long run."

There are signs that the new government has switched its focus from schemes to increase home ownership to helping those who are seeking lower rents in all parts of the country.

Speaking to a property industry conference, the housing minister, Gavin Barwell, said there was "still a role" for the government to help aspiring buyers "but this can't be at the exclusion of all else". He added that the government was now looking at incorporating other forms of tenure, including rented homes.