Confidence in UK house prices wobbles despite October rise – Halifax
11-10-2017
Cat Rutter Pooley

UK house price growth is proving resilient despite plummeting confidence in the market, according to the latest figures from mortgage lender Halifax.A prolonged shortage of new homes, sluggish listings and historically low mortgage rates have stoked values despite confidence reaching the lowest level since 2012, Halifax said on Tuesday. Half of those surveyed still expect prices to rise over the next year, but a growing number — 20 per cent — now anticipate a fall, suggesting that homeowners may be starting to get jittery.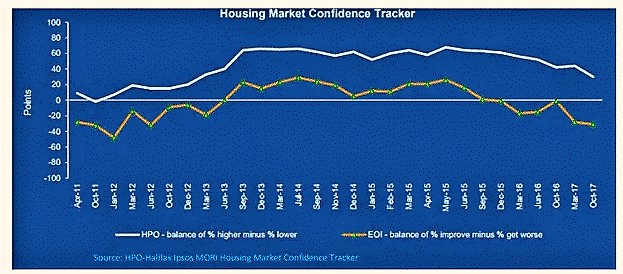 For the moment, growth remains strong, according to Halifax. In the three months to October house prices picked up 4.5 per cent from the same period a year earlier — in line with expectations — up from the 4 per cent annual growth figure in September and the quickest pace since February.Month-on-month, homes were 0.3 per cent more expensive in October, a notch higher than consensus estimates according to Reuters, after adding 0.8 per cent in September. Compared with the previous quarter, prices increased at the fastest rate over the past three months since January, at 2.3 per cent.But that contrasts with other housing market indicators — of which there are many.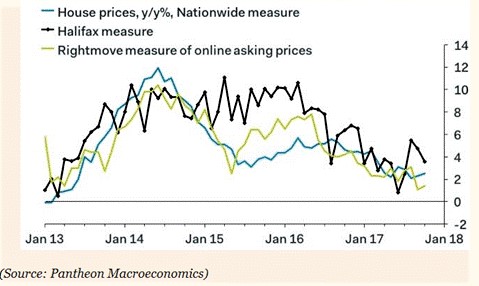 Pantheon Macroeconomics point out that the comparable figure from Nationwide to Halifax's quarter-on-quarter growth of 2.3 per cent is just 0.8 per cent. Pantheon's seasonally adjusted version of Rightmove's online asking price index is even lower, with Halifax the outlier in reporting that house price growth has strengthened in recent months.(Source: Pantheon Macroeconomics)Looking ahead, despite last week's Bank of England rate rise, Halifax said it did not expect higher interest rates to be a barrier to buying a house, although increasing pressure on household finances and affordability concerns could dampen demand."The fact that the supply of new homes and existing properties available for sale remains low, combined with historically low mortgage rates and a high employment rate continues to support house prices and is likely to do so over the coming months", said Russell Galley of Halifax Community Bank.Samuel Tombs at Pantheon is more cautious:
Looking ahead, the pipeline of demand is weak. In September, RICS reported that new buyer enquires fell at their fastest pace since July 2016, while sale instructions fell only marginally. Meanwhile, real wages still have further to fall and mortgage rates look set to rise by about 50bp over the next six months, in response to the MPC's interest rate hike and the impending closure of the Term Funding Scheme in February. Accordingly, we expect house prices merely to flatline over the next 12 months.(Top chart: Halifax, bottom chart, Pantheon)

Copyright

The Financial Times Limited 2017. All rights reserved. You may share using our article tools. Please don't copy articles from FT.com and redistribute by email or post to the web.