UK house price growth accelerated to 5.2 per cent in the year to December, new official data shows.
That was a rise from 5 per cent in the twelve months to November. The jump exceeds rises in average wages, prompting experts to warn of a further strain on affordability.
The average UK house price hit £227,000 in December 2017, up £1,000 from the previous month and £12,000 higher than in December 2016.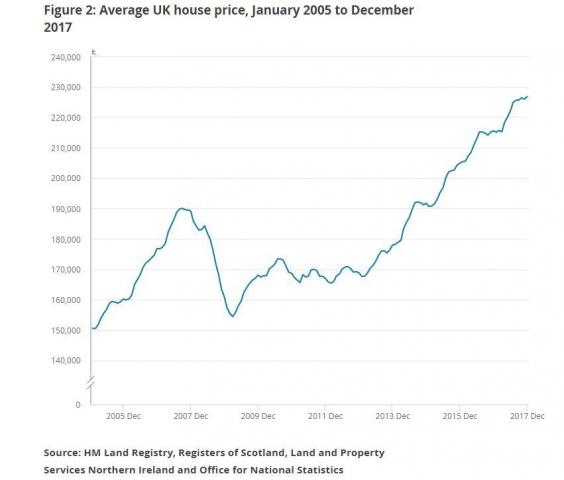 The house price index compiled by the Office for National Statistics and the Land Registry shows Scotland and the South-west experienced the highest annual house price growth, registering 7.7 per cent and 7.5 per cent respectively.
Average prices in England rose 5 per cent in the year, to £244,000 while Wales saw house prices increase by 5.4 per cent over the last 12 months to stand at £154,000. Growth in Northern Ireland was slightly more subdued, with the average price rising 4.3 per cent to £130,000.
Richard Snook, a senior economist at PwC, said the overall UK rise was above his projection made at the start of 2017.
Prices have risen faster than average earnings for the fifth consecutive year, "further ratcheting up the affordability challenge", he said.
"Cumulatively, house prices have increased by 22 per cent more than earnings between 2012 and 2017.
"In terms of regional trends, London prices showed a slight recovery from the sharp fall in November so the picture is one of a market that has plateaued since the summer. London prices are just 2.5 per cent above their level a year ago.
"This effect appears to be spreading to the next most expensive regions, the South-east and the East, where prices have been flat since July."