What will Brexit mean for house prices?
03-09-2019
Expert house price predictions for before Brexit and beyond By Ele Clark
Whether you're a staunch remainer or avid Brexiteer, there's no denying that the uncertainty around when the UK will leave the EU, and the terms under which it may happen, is causing property market jitters.
The EU has confirmed that there have been no breakthroughs so far in its negotiations with the UK over the Irish border. The statement comes ahead of a 'meaningful vote', scheduled for Tuesday 12 March, on Theresa May's Brexit deal.
If, as many predict, the deal is rejected next week, the prime minister has offered two further votes: one allowing MPs to rule out leaving the EU without a deal, and another allowing her to push back the Brexit date.
Many are now predicting that Brexit will be delayed until the end of June at the earliest.
If you're unsure what to do about buying a property or remortgaging in the run-up to Brexit, call Which? Mortgage Advisers on 0808 250 7183 for a free consultation. Alternatively, fill in the form at the bottom of the article and a member of the team will call you back.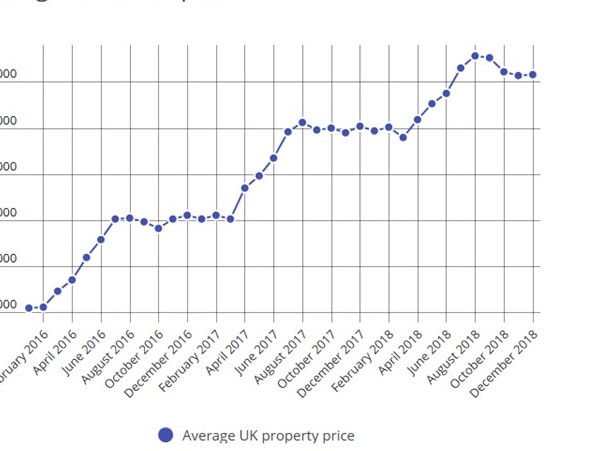 What might a no-deal Brexit mean for house prices?
Many business leaders and financial experts have expressed concerns about the potential consequences of a no-deal Brexit. In September 2018, Bank of England governor Mark Carney warned that leaving the EU without a deal could send house prices tumbling by a third, and last week he added that UK growth would be 'guaranteed' to fall in the event of a no-deal Brexit. So, what does all of this mean for the property market, and what impact has the vote to leave the EU already made on house prices and sales volumes? We've analysed market activity before and since the Brexit referendum to bring you the insider's guide to what experts from the estate agency, building, mortgage and buy-to-let sectors think will happen over the coming months.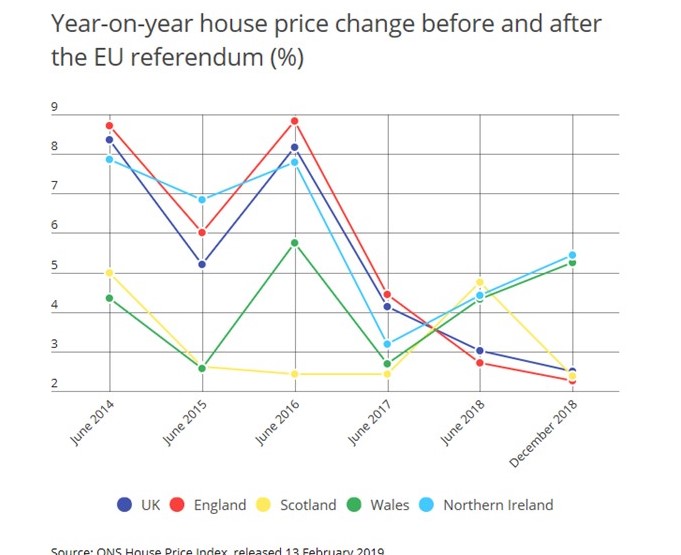 What's happened to house prices since the Brexit vote?
House prices did stagnate for a while following the referendum in June 2016, as you'll see in the chart below. This could well have been down to the usual pattern of prices growing in spring and plateauing over summer, which we also saw in 2017. But, with Brexit looming ever closer, house prices suffered a bigger post-summer dip than usual in 2018, dropping from a peak of £232,797 in August to £230,630 in November. The latest ONS House Price Index shows that they crept up slightly in December, meaning that the current average UK house price is £230,776.
Are UK house prices falling?
Looking at year-on-year house price change over the longer term can be another useful way of understanding what the market's doing. The chart below shows what the rate of growth has been each June since 2014, and we've added a figure for December 2018 (the latest month available from the ONS) so you can see the most up-to-date info too. As you can see, the rate of house price growth plummeted in the year after the referendum everywhere in the UK except Scotland. It has continued to decrease in England ever since, and Scotland also dipped back down to only moderate growth of 2.39% in December. However, there was more significant growth in Wales (5.24%) and Northern Ireland (5.45%). It's worth bearing in mind that, even if the rate of growth has decreased, house prices themselves haven't – and many argue that the slowdown in England is simply a long-overdue market correction. Find out more: how much is your house worth? Transaction volumes since the referendum Another way of judging the health of the housing market is to look at transaction volumes, meaning the number of property sales in any given month. A lower number of sales can indicate market uncertainty, which is often triggered by events such as an election or a referendum. As you'll see in the graph below, the referendum didn't seem to have much of an impact on transaction figures. The big spike you can see was caused by the April 2016 introduction of a 3% stamp duty surcharge for buy-to-let investors and people buying second homes, with thousands rushing to buy just before the change came in. After the April transaction crash, numbers slowly crept up again. According to HMRC's most recent seasonally adjusted figures, there were actually more house sales in January 2019 – 101,170 to be exact – than in the same month the year before (99,830). What's the pre-Brexit market like for sellers? Two commonly used measures of how the market is performing for sellers are stock per branch – which is the average amount of properties on each estate agency's books – and time to sell. The chart below shows that the time to sell has gone up both month-on-month and year-on-year recently. In January, the average time for a property to go under offer shot up to 77 days, the highest it's been in years – and this could be partly due to nervousness around buying a home in the run-up to Brexit. Stock per branch was also up year-on-year, from 42 in January 2018 to 45 in January 2019.
The charts above show us what's already happened, but what lies ahead? We spoke to a range of industry experts to find out what they believe the future holds for the UK property market, both before Brexit and beyond. Here's what they said. The mortgage broker: 'Don't just jump into a fixed rate' David Blake of Which? Mortgage Advisers says: 'The political situation may be in turmoil but it's important that buyers and homeowners don't panic or make any rash decisions. 'I'm sure many people are waiting until we know more about whether the UK will leave with a deal, but this could go on a while and it's tough putting your life on hold for an unknown. 'Recent price drops in some regions mean that it's becoming more of a buyers' market, so you might be able to get a good deal. Besides, buying a property should generally be regarded as a long-term investment and, even if there is a short-term price drop, house prices will probably stabilise in the future. 'Mortgage rates are incredibly low right now and many will want to fix into a low rate to give themselves security as we move into a period of uncertainty. But don't just jump into a fixed rate without considering the alternatives – there are plenty of flexible products that would leave your options to remortgage open if rates did start to change. 'Brexit is still a complete unknown, and while a professional mortgage adviser won't have all the answers, they will be able to explain your mortgage options to help you navigate this period of uncertainty.'
For free advice on whether you should remortgage and a recommendation on the best deal for you, call Which? Mortgage Advisers on 0808 250 7183 or fill in the form at the bottom of the article and they'll call you back.
The property pundit: 'If you want to live there long term, buy now' Kate Faulkner, housing expert and founder of propertychecklists.co.uk, says: 'We've definitely seen a stagnation in the market over the last year in areas such as London, the South and East (which had all overheated) and this slowdown has spread to other areas over the last few months.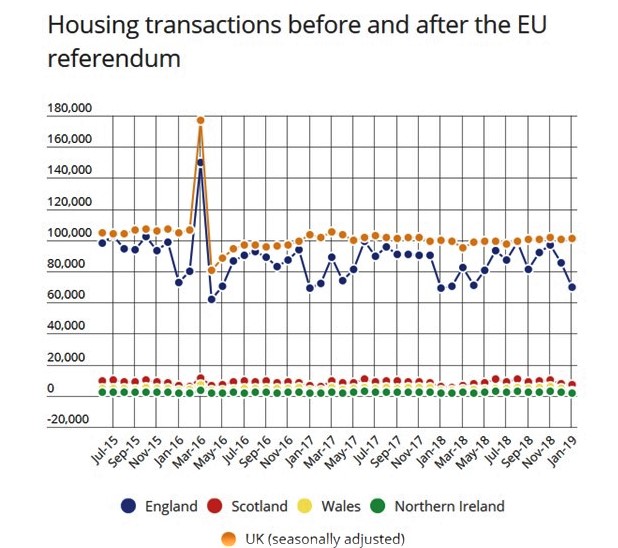 'Buyers are holding back in the hope that prices will fall. But it's not only demand that's dropping – supply is, too, with many people battening down the hatches until we have a clearer picture of what's going to happen. 'This can limit the likelihood of decreasing house prices, but also mean that few move, as there's little choice on the market for would-be sellers. 'I don't think buyers should be put off by fears of a house price crash as long as they mitigate the risks. If you bought a property now, even if it did drop in value in the short term, the market would probably have corrected itself by the time you wanted to move (assuming you stayed there for at least five years). 'However, if you're considering buying somewhere for the short term it's more complicated. Transactions are likely to drop over the next few months and it's possible that interest rates could jump back to their pre-credit crunch levels of 6-7% if a no-deal Brexit causes issues.
'In terms of the buy-to-let sector, demand from landlords has already reduced so it's unlikely we'll see further falls this year. And, while tenant fees are being banned from June, rents are likely to rise further due to lack of stock, meaning now isn't a particularly bad time to be a landlord as long as you really understand your objectives and whether the deal stacks up both now and in the long run.' Find out more: how to buy a house The estate agent: 'Buyers and sellers are putting their plans on hold' Mark Hayward, chief executive, NAEA Propertymark says:
'Brexit is undoubtedly causing uncertainty in the housing market, which in turn affects sentiment and decision-making. 'With details of the final deal still unknown, we're seeing both buyers and sellers putting their plans on hold. Once the details are clearer, we'll have a degree of certainty which may trigger a flurry of activity.' Find out more: how to find the best estate agent The buy-to-let expert: 'Portfolio landlords will fare well' Chris Norris, director of policy and practice at the National Landlords Association (NLA), says: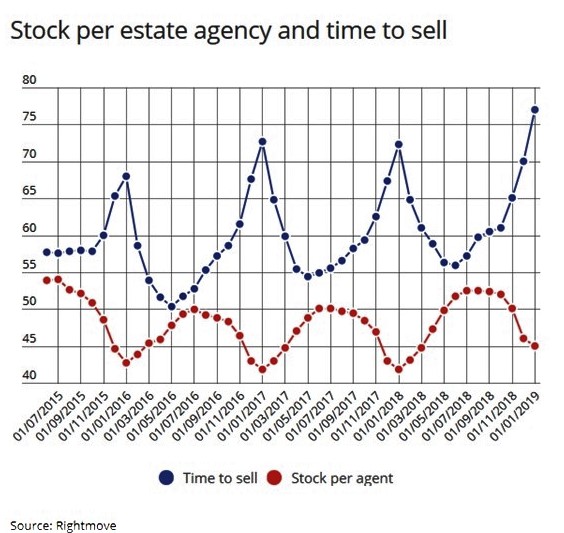 'The issues troubling most landlords are the status of non-UK, and in particular EU, citizens, given their responsibilities to police the Government's Right to Rent policy, as well as the overall impact that divergence [Brexit] will have on the stability of the housing market. 'It is still too early to predict what impact Brexit will have on property values. A weakening of the appeal of UK investment could drive prices down or a lack of certainty could drive up interest in the relative stability of bricks and mortar. 'Likewise, changes to immigration policy could reduce demand from those coming to the UK, or drive up interest from those taking advantage of new arrangements with states outside the EU. 'It is likely that landlords with established, well-capitalised portfolios will fare reasonably well.
However, those heavily reliant on finance may find uncertain conditions more troubling.' Find out more: buy-to-let mortgage calculator from Which? Mortgage Advisers The housebuilder: 'We need skilled labour from abroad' Stewart Baseley, executive chairman of the Home Builders Federation, says: 'Unlike the wider housing market, where transactions have dropped considerably from the historical norm, the new-build market has remained strong in recent months – a trend we expect to continue. 'The confirmation in the Budget of an extension to the Help to Buy scheme was welcome.
The scheme is ensuring demand for new-build homes remains strong [and]… the certainty of demand is enabling builders to plan ahead to increase output in the coming years, as is demonstrated by the record high number of planning permissions being granted. 'To enable increases to be delivered the industry needs certainty about future labour supply. It is essential that, post-Brexit, the industry continues to be able to access skilled labour from abroad if housing targets are to be met.'
Find out more: buying a new-build home Expert advice on the right option for you As it stands, the only thing that's clear is that nothing is clear, and you'd be justified in having no idea whether now is the right time to buy, move, invest or remortgage. Which? Mortgage Advisers is an independent mortgage-broking service staffed by friendly experts who will be happy to talk to you, whether you're ready to look at deals or just have a simple question about mortgages or property. Give them a call on 0808 250 7183 or fill in the form below if you'd like a free conversation about the best options for you.