House prices rose by average £2,000 in February
04-22-2020

House prices rose by average £2,000 in February
PA Media: Money

By Vicky Shaw, PA Personal Finance Correspondent

PA Media


The average UK house price was around £2,000 higher in February than a year earlier, according to official figures.
Property values increased by 1.1% over the 12 months to reach £230,000 on average, according to Office for National Statistics (ONS) and Land Registry figures.
Within England, London was the region with the highest growth, with prices increasing by 2.3% year on year to an average of £477,000.
Average house prices increased over the period to £246,000 (0.8% annual growth) in England, £164,000 (3.4%) in Wales, £151,000 (2.5%) in Scotland, and £140,000 (2.5%) in Northern Ireland.
Prices in the East of England fell by 1% annually in February – marking the first time since November 2019 that any region recorded a decline.
The North East of England continued to be the only region where house prices were yet to surpass their pre-2007 peak. The average house price there was £125,000 in February.
Stricter social distancing measures imposed in March to limit the spread of coronavirus mean many potential home-movers have paused their plans for now.
Gareth Lewis, commercial director of property lender MT Finance, said: "The March and April figures are likely to show a distinct change as the volume of purchases dries up."
Jeremy Leaf, a north London estate agent and a former residential chairman of the Royal Institution of Chartered Surveyors (Rics), said the period covered by the index "renders it almost irrelevant in view of the market turmoil since".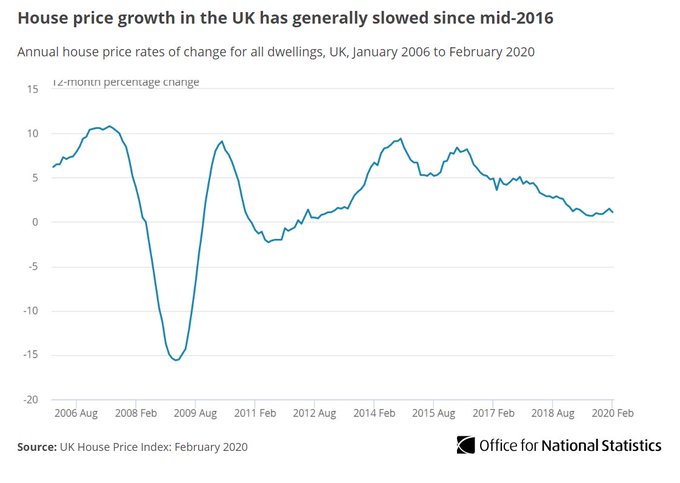 He continued: "However, results do confirm post-Brexit activity, particularly in London, giving hope that activity will continue where it left off if lockdown restrictions can be eased relatively soon."
Anna Clare Harper, co-founder of property fund Anglo Residential, said: "The good news is the data reflects a positive underlying trajectory of improving confidence