House prices are going up, defying predictions of a crash. Will it last?
06-17-2020
UK house prices are rising, with property sales levels almost up to pre-coronavirus levels. Here's what this means for prospective buyers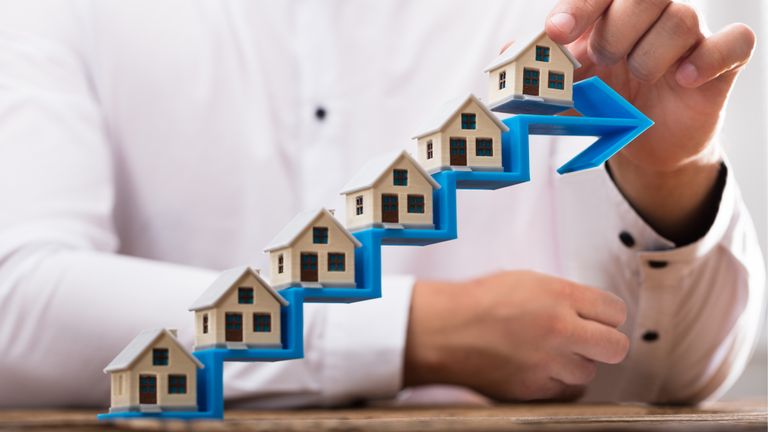 (Image credit: Shutterstock)
BY ANNA COTTRELL 4 HOURS AGO
UK house prices are rising, defying dire prognoses of a house price slump in 2020. The latest figures obtained from Rightmove reveal an average house price increase of 1.9 per cent – and that's compared to March levels before we went into lockdown.
While mortgages have become tougher to get amid lender nervousness about a house price crash, the housing market itself is proving to be resilient, with no sign that home owners are having to slash prices post lockdown. Rightmove sales price analysis shows that, on average, buyers are paying 97.7 per cent of asking prices – hardly the massive 10 per cent discounts that were predicted by some property experts.
Of course, some of this is due to a rapid release of pent-up demand into a market that is missing approximately 175,000 properties that were either put up for sale and withdrawn due to lockdown, or not put up for sale at all. With a massive 40,000 sales agreed since the end of property lockdown on 13th May, the buyers who have been waiting for months to buy a home are propping up the market.
Miles Shipside, Rightmove director and housing market analyst, comments: 'Following the initial shock of the early reopening of the housing market, England is getting moving again with a boom in traffic on Rightmove. There are no signs of panic selling or even a price dip. Some sellers who had agreed a sale before lockdown have been worrying that their buyer may try to renegotiate with a reduced offer.
RECOMMENDED VIDEOS FOR YOU...
'On this evidence, buyers may now be trying to exchange quickly, as there are signs of high pent-up demand and upwards price pressure, rather than downwards. Lenders may also have been concerned about price instability affecting the risk profile of their low-deposit mortgages, so hopefully this will give them more confidence to increase their range of first-time-buyer products.'
There are signs that this buoyancy may well be a longer-term thing, with many estate agents reporting that their property transactions are massively up from pre-lockdown levels. This suggests that Covid-19 has pushed people to make housing decisions that they had been hesitant about – for example, moving into a larger property, or trading up a city apartment for a home with a garden further out. Or, of course, it could be that many people are downsizing in order to cope with a lower income or in anticipation of a recession later this year.
City dwellers that are moving are also up for a change of lifestyle – and no surprise given the challenges of lockdown during hot weather. Andy Shepherd, CEO of Dexters in London, said: 'We're tremendously busy across all of our 70 London offices. Transactions numbers are increasing daily, over the past two weeks we've agreed sales on over 250 properties and arranged lettings on over 600, so 85 a day or 10 an hour in the working week. Immediately before lockdown we'd seen the best market for five years. However, comparing last week with the first week of March, we are 60 per cent up on transactions.
'A recurring theme from both buyers and tenants is the need for more interior space for home working; outside space, whether a balcony, roof terrace or garden and a more convenient location, whether for work, leisure or family reasons.'
This should all hopefully translate into better news for first-time buyers in the coming months; as lenders become more confident that the property market won't crash, they should start reintroducing their full ranges of mortgage products. Whether it continues, though, really comes down to the recession we're expecting – and how it might affect us as both individuals and as a market as a whole. We will be watching... and updating you.
Ready to move? We've teamed up with online mortgage specialist Habito; use their online comparison tool below to see how much you could borrow – and speak to one of their advisers for expert tips and knowledge – all unbiased and free to access.