UK house prices jump at fastest rate in four years
11-09-2020
Average price of home tops £250,000 but Halifax says Covid controls will slow down market
UK house prices rose at the fastest annual rate in more than four years in October but the mortgage lender Halifax said the market would slow over the coming months because of new coronavirus lockdown rules and a weaker economic backdrop.
Halifax said in October the average price of a home topped £250,000 for the first time, with prices up 7.5% compared with a year earlier. It was the strongest rate of annual growth since June 2016.
The government's stamp duty holiday on properties up to £500,000 until March has fuelled a sharp increase in house prices since the onset of the coronavirus pandemic despite Britain's economy plunging into the deepest recession on record.
The so-called race for space, with many people reconsidering their lifestyles and looking for larger houses, or rural homes, during the crisis has also fuelled demand for bigger properties with outdoor space.
Since March, Halifax said the cost of a typical detached home had soared by 6%, or £27,371 on average, with people forced to work from home during the pandemic, and with enough money to move house, looking to relocate. In stark contrast, the average price of a flat has increased by only 2%, or £2,833.
However, the latest snapshot from the property market comes as the UK economy faces the prospect of a double-dip recession as harsh new lockdown controls come into force, putting businesses across the country under strain and threatening to drive up job losses.
Halifax said average UK house prices rose by 0.3% between September and October, to £250,457, which was the weakest rate of monthly growth since the chancellor, Rishi Sunak, announced the stamp duty holiday in July. The mortgage lender said the market was likely to slow further amid the second wave of Covid-19.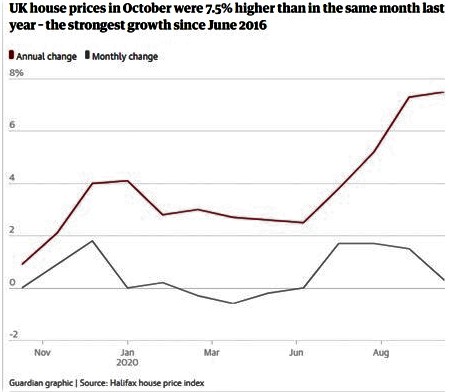 Russell Galley, Halifax's managing director, said: "While government support measures have undoubtedly helped to delay the expected downturn in the housing market, they will not continue indefinitely and, as we move through autumn and into winter, the macroeconomic landscape in the UK remains highly uncertain.
"Though the renewed lockdown is set to be less restrictive than earlier this year, it bears out that the country's struggle with Covid-19 is far from over. With a number of clear headwinds facing the housing market, we expect to see greater downward pressure on house prices as we move into 2021."
Howard Archer, the chief economic adviser to the EY Item Club, said the slowdown in monthly growth was a sign that prices were "starting to come off the boil".