First-time buyers who have been shut out of the property ladder are now pushing up rental values outside London.
British rents outside the capital rose by 1.7pc year-on-year in September, to £744 per month, new data from property website Zoopla shows.
In London, rents plunged 5.2pc, to an average of £1,596 per month. This was the steepest drop since July 2009, when the market was still reeling from the financial crisis.
But across the country, tenant demand is up 20pc year-on-year, and the level of supply is unchanged.
The impact of the dysfunctional market
The dramatic reduction in low deposit mortgage lending since the pandemic began means that the number of first-time buyers is shrinking fast, forcing many to stay in the rental sector.
As wannabe homeowners are squeezed out, demand is growing among renters for family homes.
Larger properties are in much higher demand after lockdown. Houses let in 16 days of being listed, whereas flats let in 18 days. This time last year, both took 20 days to let on average.
First-time buyers are also being pushed in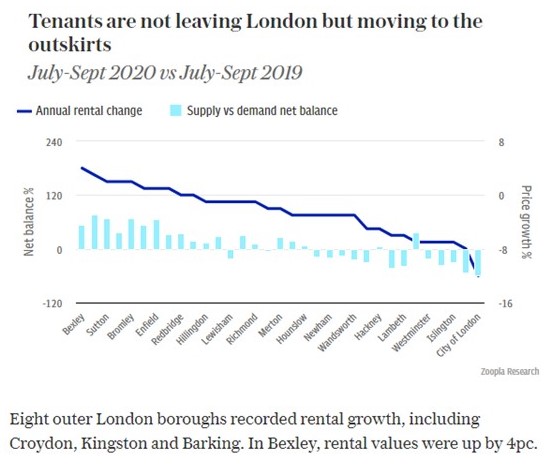 to the rental sector by rising house prices.
Values in October were up 7.5pc year-on-year according to Halifax building society. At the same time, lenders have increased the charges on low deposit loans.
Chris Sykes, of mortgage broker Private Finance said that there are signs that the lenders that are offering low deposit mortgages for short periods of time are no longer as overwhelmed as before.
New demand for space after lockdown has further contributed to rental demand. Gardens, parking, a garage and a balcony were the most searched for terms for rental property, Zoopla said. In fifth place was a pet-friendly property.
The impact on London
In the capital, the proportion of two-bedroom houses with rental price reductions dropped from 8.3pc in 2019 to 4.6pc. For three-bedroom houses, the share fell from 8.8pc to 6.3pc.
Rental values in the City of London were down 12pc year-on-year. In Kensington and Chelsea the drop was 8pc. Overall, 10 central London boroughs recorded drops in rent prices of 5pc or more.
But these tenants are not leaving the capital altogether. The proportion of London tenants looking to stay in the capital has actually risen year-on-year. They are simply moving outwards, in search of larger homes and green space.
Eight outer London boroughs recorded rental growth, including Croydon, Kingston and Barking. In Bexley, rental values were up by 4pc.
The economic hit
In Newcastle, values jumped by 3.5pc. Bristol and Sheffield saw respective rises of 3.1pc and 2.6pc. Gráinne Gilmore, of Zoopla, said: "We are seeing the two-speed rental market firmly entrenched."
Yet while supply and demand is underpinning prices now, the recession could take its toll on values. "Muted earnings growth will start to limit the headroom for rental growth in some markets," said Ms Gilmore.
As in London, working from home is already beginning to take its toll on rents in cities such as Coventry. Here, values were down 2.5pc year-on-year.
Rents also declined in Edinburgh, falling by 1.6pc. Both the Scottish and English capitals had a high proportion of short-term holiday let properties, which landlords moved onto the long-term market en masse when tourist numbers collapsed.
London is the slowest moving market, with flats letting in 22 days and houses letting in 20 days. The South West is fastest, Here, houses let within 14 days.