Rising U.K. House Prices Drive Mortgage Surge for Banks
12-16-2020
Mortgage lending has been a rare bright spot for banks as U.K. property prices hit records
The average U.K. house price rose 7% in the 12 months to November.
SIMON DAWSON/BLOOMBERG NEWS

By Simon Clark

A surge in mortgage loans is proving to be a bright spot for British lenders, as the housing market shrugs off the impact of the coronavirus pandemic and concerns about the country's exit from the European Union.
Shares in British lenders have underperformed the FTSE 100 index this year, while the economic impact of the pandemic forced many banks to increase provisions for nonperforming loans and low interest rates made it tougher for them to make a profit.

But demand for new mortgages has been a rare beacon during the pandemic. There were 97,500 mortgage approvals for house purchases in October, the highest since September 2007, according to the Bank of England.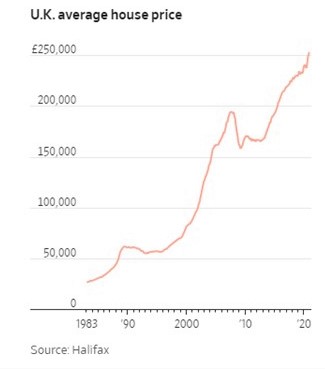 "Mortgages look like a pretty decent bright spot," Barclays PLC Chief Financial Officer Tushar Morzaria said on a call with analysts discussing the bank's third quarter earnings. "Application levels are running at pretty robust levels."

The surge in mortgage applications is being felt throughout the banking industry. Lloyds Banking Group LYG -0.26% PLC, the U.K.'s largest mortgage lender, has recorded its highest share of new mortgage approvals since 2008, with its open mortgage book growing by £3.5 billion, the equivalent of $4.7 billion, to £270.6 billion.
The upsurge has also seen banks reintroducing mortgages worth 90% of the purchase price: NatWest Group PLC followed Lloyds by reintroducing them on Wednesday, while Barclays has introduced two 90% loan-to-value mortgages for all first-time buyers. The Nationwide Building Society, meanwhile, has resumed offering 90% loan-to-value mortgages to all home movers.
Banks drew back from making high loan-to-value mortgages as the pandemic struck in March, fueling concerns about the economy and the property market. More prudent lending helps ward off future problems for banks if property values fall.
"Everyone pretty much reduced their maximum LTV at the height of the pandemic," Nationwide spokesman Mike Pitcher said.
Rising U.K. house prices during the pandemic reflect a global trend, according to UBS Group AG , which said in September that house prices are accelerating despite the sharpest global economic downturn in more than 60 years. Americans are on track to take more mortgages this year than they did during the run-up to the 2008-09 financial crisis.

The average U.K. house price rose 7% in the 12 months to November to £253,243 as the British government imposed a second national lockdown to stem the spread of the virus. The average house price has risen by more than £15,000 since June, the strongest five-month gain since 2004, according to Halifax, a unit of Lloyds.
Soaring U.K. house prices were partly fueled by the government's decision to scrap a home buyers' tax on properties valued up to £500,000 until March 2021. But that doesn't explain the whole rise: Billions of pounds of emergency government support for companies and workers have propped up the U.K. economy, while low interest rates and city dwellers moving to rural areas as working from home becomes a permanent prospect have also propelled house sales.
"The fundamental driver is the cost of debt," Rupert des Forges, a partner at London-based real-estate broker Knight Frank, said in an interview. "Interest rates where you can get retail debt fixed for five years at 1.2% or 1.3% is so c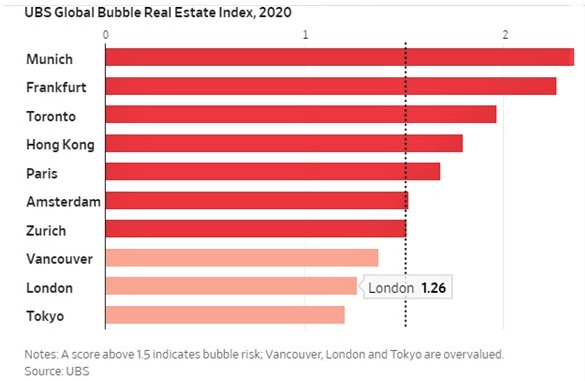 ompelling."
The reintroduction of high loan-to-value mortgages may make it easier for first-time buyers to borrow, as U.K. housing is increasingly unaffordable for workers on the average wage. The average U.K. house price is more than 10 times the £22,389 average income of a nurse, according to real-estate broker Keller Williams.

"We are committed to helping people take their first step on to the property ladder," said Jasjyot Singh, Lloyds managing director of consumer and business banking. "Reintroducing options at higher LTVs means we can support more people ready to get a foot on the ladder."
The U.K. housing market will face more challenges next year, when the temporary tax cut for home buyers and government support measures are likely to end, according to Capital Economics, a London-based research firm.
Write to Simon Clark at simon.clark@wsj.com