Rightmove reports further fall in central London rents
05-10-2021
By Joey Gardiner
No comments Save articlePrices now down 14% amid glut of supply as firm says landlords working hard to avoid empty homes
Average "asking rents" for London homes have dropped by nearly eight percent in the wake of the covid pandemic, with the most expensive areas of the capital seeing even bigger falls.
The quarterly study of rental prices by online property portal Rightmove found that rents across the country had risen in the last year by 4.2%, with a 1.1% rise in the last quarter.
Many of the new homes in Nine Elms have been designed for renters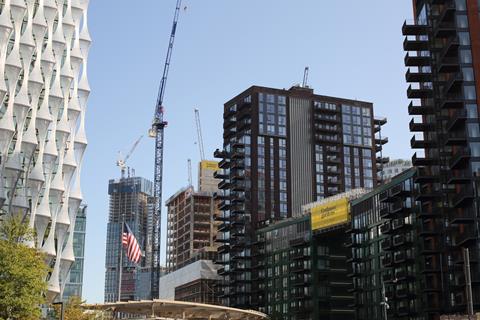 However, the study is the latest to report that rental costs have fallen sharply in the capital, where much of the UK's pipeline of build to rent developments is located.
Rightmove said that prices in the capital had fallen by 7.8% in the last year, with a 0.7% drop in the last quarter alone. The vast majority of this fall was found in "inner" London, with prices there dropping by 14% in the last year, and 1% in 2021 alone.
In contrast, rents in outer London have dropped by just 1.1% in the last year, the survey said.
Rightmove's figures, based on its database of 900,000 rental properties, record the "asking rent" at which landlords market properties for occupancy at, rather than the actual rent paid, so the figures won't necessarily equate to falls in rents for residents in existing rental contracts.
The firm said that available stock in the capital is a fifth higher than at the same point last year, while outside London the availability of stock has sharply reduced. Two thirds of London boroughs now have rents lower today than five years ago, the firm said.
Over the last five years the biggest falls have been in some of the wealthiest locations, including Barnes, Notting Hill and Knightsbridge, the firm said.
According to the British Property Federation's build to rent tracker there were more than 54,000 build to rent homes in the planning or construction pipeline in the capital at the end of 2020. This equates to 43% of all homes currently under development as purpose built private rented accommodation.
The Rightmove data follow figures from build to rent landlord Grainger earlier this year showing that one in ten of its rental properties were lying empty.
Rightmove's director of property data Tim Bannister said there was a "stark contrast" between the rental market in central areas of London and the market across the rest of Great Britain. He said that landlords in London "obviously couldn't foresee the effect that covid would have on rents, and right now they'll be doing all they can to prevent voids and hope the drop in rents is fleeting."