Boost for buy-to-let landlords as 'no-fault' eviction ban could be scrapped
10-11-2022

Government could U-turn on housing strategy promise during chronic rental crisis
By Melissa Lawford

Landlords could be able to continue to evict tenants without reason after reports that the Government plans to scrap its promise to abolish Section 21.
Ministers are discussing putting legislation to ban so-called "no-fault" evictions on ice, as the Government no longer considers the policy a priority, it was reported.
One source told The Times that prime minister Liz Truss's Government now wants to bin the policy entirely.
Scrapping Section 21 was a 2019 Tory election manifesto promise and the flagship policy of a government white paper on private rental sector reform drawn up by former housing secretary Michael Gove in June.
Reports that the Government could ditch one of the bedrocks of its housing strategy during a chronic rental crisis triggered outrage amongst charities and MPs on Tuesday.
The Housing Department did not deny the reports and would not confirm that it would be pressing ahead with plans to get rid of Section 21.
A Government spokesman said: "The Government is committed to exploring policies that build the homes people need, deliver new jobs, support economic development and boost local economies."
Matt Downie, chief executive of housing charity Crisis, said scrapping the move would be "shameful" and warned that removing support in the midst of the cost-of-living crisis will push thousands of families into homelessness.
"To scale back on preventing the leading cause of homelessness now would be disastrous," Mr Downie said.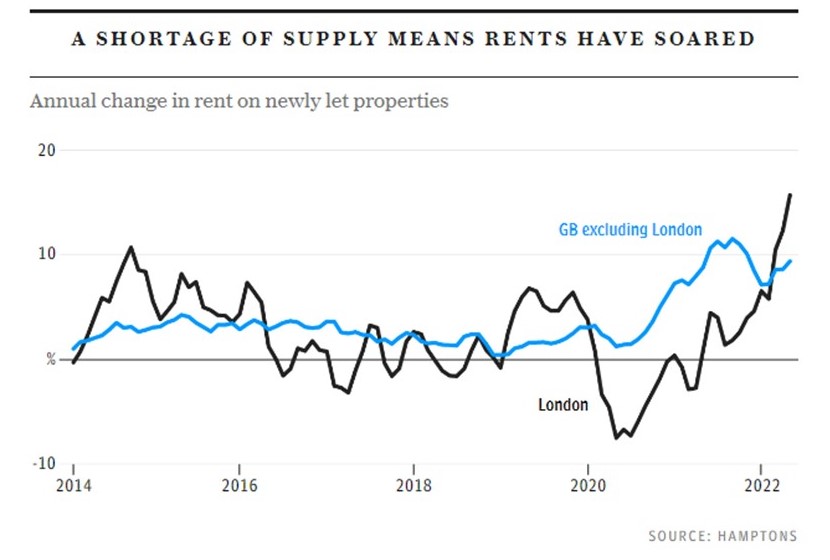 Alicia Kennedy, of campaign group Generation Rent, said: "No-fault evictions mean that families can face the disruption and upheaval of moving home and often schools with just two months' notice. It means unscrupulous landlords can bully tenants into accepting shoddy conditions or unaffordable rent increases. This law has no place in modern society."
The U-turn would be a blow for tenants just as they are battling with soaring rents and an extreme shortage of supply. In the three months to September, the stock of homes to rent had nearly halved compared to the five-year average, according to property website Zoopla. Rents surged by 12.3pc year-on-year. In London, rent growth hit 17.8pc.
But landlords argue that keeping Section 21 will encourage buy-to-let investment and help to boost supply.
Landlords have been selling up steadily in the wake of the Government's buy-to-let crackdown, which began under George Osborne. In 2022, the market will see a net loss of nearly 50,000 rental properties, according to analysis by Hamptons estate agents.
Ben Beadle, of the National Residential Landlords Association, a trade body, said: "A wide range of reforms are desperately needed to support the sector. The supply crisis must be addressed urgently."
The June white paper sparked fear amongst landlords because Section 21 is used as a way to routinely end tenancies without going through the courts – which are overloaded and plagued with delays. Often, landlords use Section 21 even in cases of rental arrears or anti-social behaviour because the process is faster and cheaper.
Under the white paper plans, without Section 21, landlords would have to prove tenant wrong-doing to get their property back (unless they wanted to sell or move into the property themselves), using what is known as Section 8.
The average wait time between an eviction claim and repossession is currently 44 weeks, according to the Ministry of Justice. This means that without using Section 21, landlords have to wait for nearly a year to get a property back.
This wait time would likely balloon if evictions that were previously made under Section 21 were redirected to the courts.

www.google.co.uk - preferred search engine